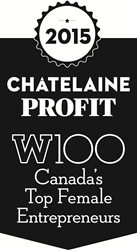 You need a bold vision, an innovative strategy and loads of tenacity to earn a spot on the W100.
Vancouver, British Columbia (PRWEB) June 11, 2015
Healthcare lead generation leader Prizm Media announced Co-founder and President Karina Hayat's ranking as 9th of 100 leading female business professionals in PROFIT and Chatelaine's W100 Canada's Top Female Entrepreneurs today. Currently published in the June issue of Canadian Business and online at PROFITguide.com and Chatelaine.com, the W100 lists female entrepreneurs according to their businesses' size, growth rate, and profitability.
"You need a bold vision, an innovative strategy and loads of tenacity to earn a spot on the W100," says James Cowan, Editor-in-chief of PROFIT and Canadian Business. "Every person on this list represents the pinnacle of business success in Canada. Their stories are inspiring and instructive for those seeking to excel as an entrepreneur."
When Karina emigrated from Guatemala, she only knew three words of English but she quickly overcame the language barrier and set herself on a path to pursue a career in healthcare. While balancing a full-time course load in college and several part-time jobs, she and her co-founder created the lead generation innovator known as Prizm Media.
"I could not be more humbled to be in the Top 10 of the W100," says Hayat. "The women on this list are exemplary both personally and professionally. They're innovative, creative, and influential business leaders and to be considered among them is an incredible honor. But I could not have received this prestigious recognition without the Prizm Media team. It is a privilege to work alongside such a hardworking group of people within a corporate culture that I truly value."
This year's W100 is her second consecutive year on the nationally recognized list, advancing from 45th to 9th in the celebrated list of Canadian women in the business space. Hayat's movement forwards in the W100 reflects Prizm Media's notable momentum in the last 14 years. Prizm Media has achieved significant attention for their corporate achievements and decisive leadership in the last three years, such as from TiE Silicon Valley, PROFIT 500, Rocket Builders, BCAMA, and the Better Business Bureau.
Considered a thought leader in its industry, Prizm Media connects health providers with the people who need them most, helping transform their health outcomes and ultimately their quality of life. To date, the company has touched the lives of over 13 million everyday consumers and expects to generate an additional 5 million inquiries this year.
About Prizm Media Inc.
Prizm Media Inc. is a full-service lead generation and technology firm that helps companies accelerate sales cycles through compliant performance-based marketing initiatives. The company caters to mail-order medical supply, pharmaceutical, durable medical equipment, wellness, and healthcare industries in the US and Canada. Its growth plans call for an expansion of its existing team to disrupt the health and technology space by creating a game-changing eHealth Ecosystem. Headquartered in Vancouver, British Columbia, Canada with over a decade of experience, Prizm Media has generated over 13 million leads for over 600 health and wellness firms.
Visit Our Website: http://prizmmedia.com
Like Us On Facebook: http://www.facebook.com/prizmmedia
Follow Us On Twitter: http://www.twitter.com/prizmmedia
About the PROFIT/Chatelaine W100
Now in its 17th year, the PROFIT/Chatelaine W100 ranking of Canada's Top Female Entrepreneurs is Canada's largest celebration of achievement by women business owners. Produced by the editors of PROFIT and Chatelaine, the rankings and extended coverage of the women honoured are published in print and online. Applicants to the 2015 W100 were ranked using a proprietary formula that considers the size, growth rate and profitability of the companies they own and manage. To see this year's complete ranking and find links to all of our W100 editorial coverage, visit http://www.profitguide.com/w100.