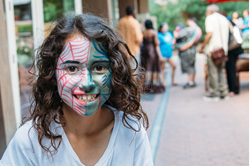 To come into this zoo and see all the families and their success is beyond moving and emotional. I didn't realize so many others have been in our same shoes.
Chesterbrook, PA (PRWEB) June 11, 2015
On the afternoon of Sunday, May 31, Drs. Isaac E. Sasson, Sunita Kulshrestha, Abraham K. Munabi, and the Pennsylvania staff of Shady Grove Fertility hosted over 270 families for a day of fun, laughter, and ear to ear smiles at Elmwood Park Zoo.
It is a day of excitement, love, and laughter. Patients going through fertility hurdles often feel alone. "To come into this zoo and see all the families and their success is beyond moving and emotional. I didn't realize so many others have been in our same shoes. We exchanged numbers with two other families!" says former patient Christine M.
"Patients entrust us with their care at such a vulnerable time in their lives. It is our honor to care for them, hear their concerns, cry with them, and guide them in their medical choices. To see these patients again after many months in our care was overwhelming. I don't think the patients, our staff, or I realized the emotions we were going to feel," says Dr. Sasson.
A former patient by the name of Bernadette was one of the first guests to arrive with her husband and children. She shared, "Thank you for hosting a beautiful celebration of families. It was so great to see all of these adorable blessings in one place. Shady Grove Fertility has made so many hearts and families complete. We could feel the joy in the room."
Almost everyone knows someone who has had trouble having a baby. The heartache, the tears, the questions, and the unknown can be devastating. The Shady Grove Fertility team has been able to give hope back to patients, help families feel in control again, and make fertility options more affordable than ever before. Shady Grove Fertility is honored to have received such an outpouring of response from the referring physician and patient communities. This Family Day was a wonderful way to celebrate our patients, their perseverance, and their ability to have continued hope in the face of many challenges.
"It was a joyous day for all of us at Shady Grove Fertility to reunite with patients like Bernadette and Christine. Meeting their beautiful babies and seeing all the smiles is very special for our team. Families come in many different ways today; it is our goal to help them achieve their dream of becoming parents," says Dr. Sasson.
###
About Shady Grove Fertility Pennsylvania: Shady Grove Fertility, America's largest and most progressive fertility center, has four offices in Pennsylvania located in Bala Cynwyd, Reading, Harrisburg, and a full-service, state-of-the-art center and laboratory near King of Prussia in Chesterbrook, PA. Comprehensive services at all our PA locations include patient consultations, monitoring, andrology services, and IUI. IVF and Donor Egg procedures are performed in Chesterbrook. In addition to these services, we offer the resources to comprehensively address patients' needs: medical, emotional, and financial. Our caring and compassionate staff throughout Pennsylvania includes four board certified reproductive endocrinologists, an exceptional medical support team, and experienced embryology laboratory staff.