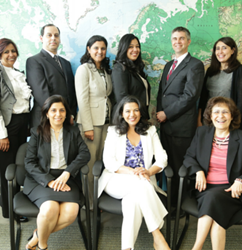 Coptic Orphans' coveted 4-star rating puts it in a very select group of high-performing charities.
(PRWEB) June 19, 2015
Coptic Orphans' sound fiscal management practices and commitment to accountability and transparency have earned it a 4-star rating from Charity Navigator, America's largest independent charity evaluator.
This is the fourth consecutive time that Coptic Orphans has earned this top distinction.
"Charity Navigator's decision to award Coptic Orphans these four stars, four times in a row, shows that we deeply value our supporters' contributions, and that we use them carefully and transparently," said Coptic Orphans founder and executive director Nermien Riad.
"Coptic Orphans is committed to being the organization where donors can have the most impact in Egypt for every dollar they donate," said Riad. "Because of that, we hold ourselves to rigorous standards of financial management that earned this 4-star rating from Charity Navigator."
"Coptic Orphans strives to be a model of wise financial stewardship," said Riad. "Among other measures, we make sure we're audited by an independent auditor every year, and we work efficiently so that 90 cents of every dollar contributed goes directly to serving the children of Egypt."
Since 2002, using objective, data-driven analysis, Charity Navigator has awarded only the most fiscally responsible organizations a 4-star rating. In 2011, Charity Navigator added 17 metrics, focused on governance and ethical practices as well as measures of openness, to its ratings methodology. These "Accountability & Transparency" metrics, which account for 50 percent of a charity's overall rating, reveal which charities have "best practices" that minimize the chance of unethical activities and whether they freely share basic information about their organization with their donors and other stakeholders.
"It's important that our donors trust that we're using our funding wisely to accomplish Coptic Orphans' mission of empowering the children of Egypt to break the cycle of poverty," said Riad. "Our 4-star Charity Navigator rating demonstrates to our supporters that we take our fiduciary and governance responsibilities very seriously."
"Coptic Orphans' coveted 4-star rating puts it in a very select group of high-performing charities," according to Tim Gamory, COO of Charity Navigator. "Out of the thousands of nonprofits Charity Navigator evaluates, only one out of four earns 4 stars — a rating that demands rigor, responsibility and commitment to openness. Coptic Orphans' supporters should feel much more confident that their hard-earned dollars are being used efficiently and responsibly when it acquires such a high rating."
Coptic Orphans' rating and other information about charitable giving are available on http://www.charitynavigator.org.
Coptic Orphans is an award-winning international Christian development organization that unlocks the God-given potential of vulnerable children in Egypt, and so equips them to break the cycle of poverty and become change-makers in their communities. Coptic Orphans works through grassroots partners and volunteer networks to strengthen local communities for sustainable impact. Since 1988, Coptic Orphans has touched the lives of over 30,000 children throughout Egypt. Coptic Orphans has offices in Australia, Canada, Egypt, the United Kingdom, and the United States. To learn more, visit http://www.copticorphans.org.
Charity Navigator, http://www.charitynavigator.org, is the largest charity evaluator in America and its website attracts more visitors than all other charity rating groups combined. The organization helps guide intelligent giving by evaluating the Financial Health and Accountability & Transparency of more than 8,000 charities. Charity Navigator accepts no advertising or donations from the organizations it evaluates, ensuring unbiased evaluations, nor does it charge the public for this trusted data. As a result, Charity Navigator, a 501 (c) (3) public charity itself, depends on support from individuals, corporations and foundations that believe it provides a much-needed service to America's charitable givers.