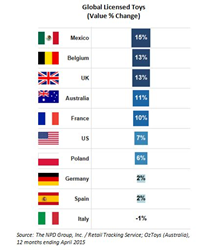 Port Washington, NY (PRWEB) June 11, 2015
In the U.S., where the toy industry has been experiencing healthy gains overall, licensed toys grew 7 percent, or two times faster than the rest of the toy market in the 12 months ending April 2015 (May'14-Apr'15), according to global information company The NPD Group. Such a positive story for licensed toys can be told not only in the U.S., but around the globe.
Licensed toys, which during this time represented up to one-third of total toy sales in the top global toy markets tracked by NPD, experienced growth in all of these countries, with the exception of Italy.
"From Hollywood to the world of retail, licensing is an integral part of branding, marketing, and sales on many levels," said Juli Lennett, senior vice president of the U.S. toys division at The NPD Group. "Licensing fosters a multi-dimensional experience between consumers and the characters they know and love. For kids, such toys bring to life the relationship that's established on screen."
Represented in 39 different toy categories and having over 300 different items on store shelves last year, Disney's Frozen was the big news story for the toy industry in 2014. The toy property captured the top spot overall and was the top gainer among all toy properties for the year based on absolute dollar growth, generating over $500 million in the U.S. There are upcoming releases in 2015 that are likely to keep the licensing momentum going strong, at least through the remainder of the year.
"This year is positioned to be just as robust, if not stronger, particularly with the release of the highly anticipated Star Wars Episode VII: The Force Awakens," said Lennett. "Although the movie won't be released until December in the U.S., we are already seeing double-digit growth in classic Star Wars toys."
Source: The NPD Group, Inc. / Retail Tracking Service, 12 months ending April 2015
*U.S. data is representative of retailers that participate in The NPD Group's Retail Tracking Service. NPD's current estimate is that the Retail Tracking Service represents approximately 80 percent of the U.S. retail market for Toys.
About The NPD Group, Inc.
The NPD Group provides market information and business solutions that drive better decision-making and better results. The world's leading brands rely on us to help them get the right products in the right places for the right people. Practice areas include apparel, appliances, automotive, beauty, consumer electronics, diamonds, e-commerce, entertainment, fashion accessories, food consumption, foodservice, footwear, home, mobile, office supplies, retail, sports, technology, toys, video games, and watches / jewelry. For more information, visit npd.com and npdgroupblog.com. Follow us on Twitter: @npdgroup and @npdtoys.