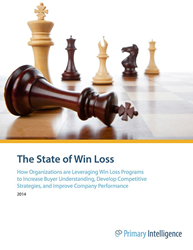 Win loss analysis, when performed correctly, always increases new business win rates. If you aren't experiencing the most important benefit this critical best practice offers, then you are not doing it right.
Draper, UT (PRWEB) June 15, 2015
A new research report from Primary Intelligence finds that organizations performing Win Loss Analysis have higher company performance metrics—including increased revenues and greater product competitiveness—than organizations lacking Win Loss programs. Win Loss data also helps companies better understand their buyers and the buying process and ultimately leads to higher win rates. In fact, companies performing an analysis of why they win and lose deals have a three-to-seven times higher win rate than organizations lacking Win Loss programs.
"Win loss analysis, when performed correctly, always increases new business win rates. If you aren't experiencing the most important benefit this critical best practice offers, then you are not doing it right," said Ken Allred, CEO of Primary Intelligence. "These programs act as directional compasses for every department in the enterprise, clearly identifying what that department needs to work on to improve competitive advantage and drive win rates up."
The new report, entitled "The State of Win Loss: How Organizations are Leveraging Win Loss Programs to Increase Buyer Understanding, Develop Competitive Strategies, and Improve Company Performance," found that 76% of surveyed organizations are conducting some type of Win Loss Analysis program today, whether internally or through a third party provider.
Of these firms, only one-third are consistently analyzing all large and/or strategic wins and losses on a regular basis. One-fifth are analyzing only a random sampling of wins and losses.
Despite this, 55% of respondents say they need more Win Loss data to do their jobs effectively. And most (58%) want their Win Loss results served up using real-time dashboards, with easy access to the data wherever and whenever they need it.
While nearly half of all Win Loss programs (46%) have been in place for less than 2 years, organizations that consistently use buyer feedback to guide their product, sales, and marketing decisions are reaping significant rewards over the longer term, with programs in place at least three years seeing the highest returns.
Collecting Win Loss feedback from sales teams and buyers--instead of sales teams or buyers independently--provides the highest success rates. Fifty-seven percent of companies are collecting Win Loss data from both sales teams and buyers, although programs utilizing a third party Win Loss provider have a higher incidence of buyer/sales feedback (65%) compared with programs conducting their own internal Win Loss Analysis (44%), which rely more heavily on feedback from sales teams alone.
Organizations investing $50K - $100K annually in Win Loss Analysis see the greatest returns, particularly in understanding buyer needs, improving sales effectiveness, providing actionable competitive intelligence, and understanding competitor strengths and weaknesses. "When you look at the deal size of some engagements, particularly those in the $500K - $1 million+ range, it's a straightforward ROI calculation for most organizations to invest in a Win Loss program," according to report author, Carolyn Galvin, Director of Industry Insights at Primary Intelligence.
A copy of the Executive Summary and Table of Contents, as well as licensing information about purchasing and distributing copies of "The State of Win Loss," can be found here.
About Primary Intelligence:
Primary Intelligence is the global leader in Win Loss and Customer Experience analysis, providing buyer-derived competitive intelligence solutions that identify root causes for why organizations are winning and losing business. Since its founding in 2000, Primary Intelligence has analyzed over $20 billion worth of purchase decisions. Primary Intelligence consultants analyze over 3,000 competitive sales opportunities for clients annually, touching more than 6,000 sales, marketing, product, competitive intelligence, and customer leaders globally. Primary Intelligence clients compete in over 30 vertical industries and include six of the Fortune 20 brands.