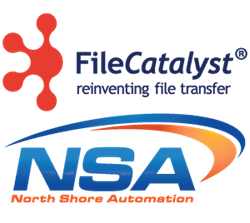 By adding FileCatalyst and Akomi to your DAM workflow, remote collaborators can work on the highest quality version of assets
Ottawa, Canada (PRWEB) June 30, 2015
Unlimi-Tech Software, Inc., a pioneer in managed file transfers and the creator of FileCatalyst, an Emmy® Award winning accelerated file transfer solution, is pleased to announce an integration partnership agreement with Los Angeles based North Shore Automation (NSA).
NSA's flagship product is Akomi, a simple to deploy web portal that connects to CatDV Pro and allows users to easily share media assets. Akomi is designed to enable quick viewing, sharing, and downloading of assets by people inside and outside of an organization. Whereas traditional asset management systems often overlook the challenges of distributing content to users. Akomi makes this easy. Integration with FileCatalyst adds the power to grant access to high res master footage to remote users.
By integrating FileCatalyst Direct, a patented UDP-based accelerated file transfer protocol, users can now access high res media downloads right from their browser. Using Akomi's search tools, users can find, view, and share links to assets to quickly find what they need. Once located, users can download a low res proxy, mid res versions, or use Akomi's link to FileCatalyst to access a full res master file. FileCatalyst allows users to send files at accelerated speeds of up to 10Gbps, since FileCatalyst is immune to network impairments such as latency and packet loss. Files are also guaranteed to be delivered as each file is verified byte by byte using MD5 to ensure there is no data corruption.
"We are thrilled with this integration," said Bryson Jones, Founder of North Shore Automation. "Most web-centric platforms limit users to a 'mezzanine' format, often a highly compressed h.264. By adding FileCatalyst and Akomi to your DAM workflow, remote collaborators can work on the highest quality version of assets."
"We're proud to add NSA to our list of partners," said Unlimi-Tech's Vice President of Business Development, Alan Atkinson. "With this alliance, users will experience accelerated file transfer, security, and reliability, which is a great benefit to Akomi users who need to send large media files."
About Unlimi-Tech Software, Inc.
Located in Ottawa, Canada, Unlimi-Tech is a pioneer in managed file transfers is the creator of FileCatalyst, an Emmy® Award winning accelerated file transfer solution. Founded in 2000, the company has more than one thousand customers in media and entertainment, energy and mining, gaming, and printing, including many Fortune 500 companies as well as military and government organizations. FileCatalyst is a software platform designed to accelerate and manage file transfers securely and reliably. FileCatalyst is immune to the effects that latency and packet loss have on traditional file transfer methods like FTP, HTTP, or CIFS. Global organizations use FileCatalyst to solve issues related to file transfer, including content distribution, file sharing, and offsite backups. To learn more visit filecatalyst.com or on Twitter @FileCatalyst.
About North Shore Automation
North Shore Automation (NSA) is a software development company, primarily focused on their flagship product, Akomi, middleware & custom programming, and DAM consulting and deployment, centering on CatDV Pro. Operating out of Los Angeles CA, the NSA team has spent years on the front lines of the move to file-based production workflows and has applied that experience to creating real-world solutions for broadcast professionals and media creation teams. To learn more, please visit http://www.northshoreautomation.com.