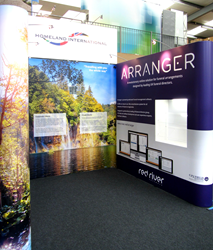 Poole, Dorset (PRWEB UK) 12 June 2015
Homeland International is the UK's leading provider of funeral repatriation services, both to and from the United Kingdom.
With departments specialising in both private and corporate repatriation, Homeland International's experienced team are on hand 24 hours a day, and working alongside a number of large companies and embassies, they are able to provide the support, help, and guidance needed to make the repatriation of a loved one as easy as possible.
This year sees Homeland International promote their services at The National Funeral Exhibition, taking place at Stoneleigh Park, in Warwickshire, on the 12th – 14th June 2015.
Since the first show in 2007, The National Funeral Exhibition is one of the leading funeral exhibitions in the world. Working alongside other major international exhibitions, including the NFDA and Expo in America, The National Funeral Exhibition provides a busy, friendly and diverse show, allowing for networking for all those working within the funeral industry.
Homeland International will be displaying the services they provide to visiting professionals from the industry, with the help of a Prestige Exhibition Stand, provided by the Poole-based exhibition stand specialists, Quadrant2Design.
With high-level branding, and seamless-effect graphics depicting a beautiful, tranquil scene, the modular, portable exhibition stand will ensure that the company stand out amidst a busy sea of exhibitors.
More information about Homeland International and their services can be found at http://www.homeland-international.co.uk.
For a free design proposal from Quadrant2Design, contact designteam(at)quadrant2design(dot)com.