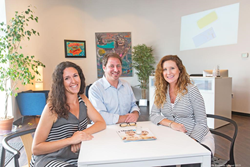 Keeping all parties' interests aligned (insurer, employer, providers and patients), in our view, is the solution to America's health care crisis.
Annapolis, MD (PRWEB) June 16, 2015
Evolve Medical Clinics was named Baltimore Business Journal's 2015 Small Business Health Care Innovator for pioneering work in primary and urgent health care delivery. Evolve Medical's novel vision of Direct Primary Care (DPC) saves businesses 15-20% of health care costs, saves employees and individuals 40-80% while at the same time providing unprescedented access, exceptional service and health care from superior providers.
The Evolve model for urgent and primary care revolves around a monthly fee of $35, which is substantially less than any other Direct Primary Care in the US. Evolve charges $25 per visit (in-person or virtual) as well as fees for labs and procedures which are 60-80% less than traditional FFS. Founding Physician, Dr. Michael Freedman explains, "We feel that patients should keep some skin in the game. HMO's taught us that unlimited primary care lends itself to excess utilization. Keeping all parties' interests aligned (insurer, employer, providers and patients) is the solution to America's health care crisis. The trick is finding the sweet spot wherein patients have enough skin to be engaged but not so much skin that they avoid necessary care. We believe we've found a uniquely harmonious interface." Evolve's early profitability, steadily growing membership and net promoter scores nearing 100, suggest it's solution is resonating.
Evolve's model can be vertically integrated with any individual or employee health plan but saves the most when used with a high deductible health plan (HDHP). Businesses save additionally in future years as through-insurance spend rate drops and rating methodology improves. A British Medical Journal study of DPC demonstrated 65% reduction in ER visits, 35% fewer hospitalizations, 66% fewer Specialist visits and 82% fewer surgeries. DPC also lowers the threshold for corporate self-insurance. CNBC called DPC "one of the smartest ways to slash health-care costs." The Heritage Foundation observed, "It has the potential to provide better health care for patients, create a positive work environment for physicians, and reduce the growing economic burdens on doctors and patients."
About Evolve Medical Clinics
Evolve Medical Clinics, founded in Annapolis, Maryland in 2013, first garnered national media attention from Physicians Practice and has accumulated awards including Capital Readers Choice Finalist 2015 and Chesapeake Family magazine's Favorite Docs 2015. It's peaceful and relaxing interior is designed to reflect an emphasis on patient convenience and experience. Evolve is one of the first practices in the United States founded as a Direct Primary Care practice and is the least expensive US model at only $1.15 per day. With Net Promoter Scores near 100, Evolve Medical is proving that exemplary and affordable care is possible.
Evolve Medical Clinics' CEO and Founder, Dr. Michael Freedman, is a Board Certified Internist with 15 years experience as a Primary Care Physician, 10 years as Practice Administrator for a large multi-specialty group, hospital executive committee experience as well as experience developing early stage ventures such as the Hahnemann Homeless Clinics Project in Philadelphia (awarded George W. Bush's 807th Daily Point of Light) and Annapolis Outreach Clinic (6,000+ patient visits per year provided at no cost from volunteer providers).
For more information, visit http://www.emc4me.com