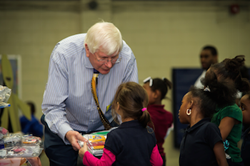 We are happy to have a part in encouraging and enabling these students to complete the school year successfully
Durham, NC (PRWEB) June 16, 2015
Goodwill Community Foundation (GCF) has kicked off the annual 2015 School Kit Donations this spring by giving more than 2,000 students essential supplies to help them finish the school year. The Durham based nonprofit organization, visited elementary schools across eastern North Carolina to hand out kits containing items that students often must rely on families to supply, like pencils, paper, and erasers.
GCF has partnered with title one elementary schools, and youth programs to give the school supply kits. The supply kit project, now in the seventh year, exemplifies GCF's mission to create opportunities for a better life by supporting the academic activity and success of children. Many of those children living at or near poverty are inspired and encouraged through this program to finish the school year strong.
Each school supply kit distributed by GCF is valued at approximately $5. If a parent purchased the same items, they would have to spend approximately $14.80, plus shopping time. The effort will continue in the fall, with a planned donation of 3,000 more kits to students as they begin the 2015/2016 school year.
"We believe this project is continuing to help alleviate the financial burden on parents to purchase supplies for their children at this critical time of the school year" says Rev. Dennis McLain, president of GCF. "This tool kit is a small, but meaningful way we can share with students that we care about them and that we believe in their success."
Last August, as children were gearing up for another school year, GCF donated similar school supply kits. Now, with end of grade testing beginning soon, the organization is seeking to remove worry about purchasing supplies for students, so teachers and parents can focus on preparing children for their exams.
"Donating items such as these is crucial because educators and families have so many other things to focus their attention on," says McLain. "We are happy to have a part in encouraging and enabling these students to complete the school year successfully."
For more information about GCF and how it supports students, families, and the people of eastern North Carolina, please visit http://www.GCFGlobal.org or call 919-941-9600.
About Goodwill Community Foundation (GCF®)
Goodwill Community Foundation (GCF®) continues to be a leader in an era of change by providing the training required for the emerging world where technology is integrated into everyday life. The mission of GCF® is to create and provide education, employment and life enrichment opportunities regionally, nationally and internationally for people who desire to improve the quality of their lives.
The GCF Community Foundation, a Durham-based tax-exempt organization, provides employment, fresh produce and volunteer opportunities, family services for parents with children with disabilities and free accounting services to youth programs across eastern North Carolina. GCFLearnFree.org and GCFAprendeLibre.org have provided free lessons for over 555,000 people in North Carolina since 2010 to improve their technology, math and English skills.
All GCF programs are funded through revenue generated from the value of donated items to 38 Goodwill Community Foundation stores throughout eastern North Carolina. GCF employs more than 400 people who earn an average of $20 per hour with benefits at these stores. For more information on GCF®, visit http://www.GCFGlobal.org.