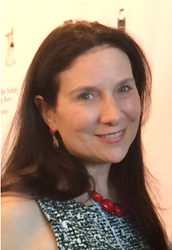 NEW YORK, NEW YORK (PRWEB) June 14, 2015
Patty Schmucker, Host of Radio AMB who tries to discern the fascinating "behind the scenes" world of American-made beauty products by interviewing movers and shakers, interviews MENAJI Men's Skincare COO Pamela Viglielmo on everything from formulations and hidden secrets, to packaging and the coveted and exclusive "Made in USA" designation on Monday June 15 2015 at 11 am PST.
Viglielmo, whose own story involves a "walking-the-walk" career move as she goes from being an investor in a pioneering, legacy-creating Indie men's brand in what was once a niche market, to one of its full-time employees, was thrilled to report on MENAJI's stake in the industry.
"I fell in love with the boldness and unapologetic energy of the brand. It's still vibrant and relevant after all these years and more so today now that the industry has caught up with the products - like our men's concealer Urban CAMO," said Viglielmo.
Prior to spearheading the growth of MENAJI Worldwide, LLC, Viglielmo was the founder of The Gramercy House, LLC. an international strategic beauty marketing and sales consulting firm that focused on Asia, Western Europe, the Middle East and South America and has logged more than 25 years in the global beauty industry. Viglielmo is an Adjunct Professor at Laboratory Institute of Merchandising (LIM) in New York City; a member of Cosmetic Executive Women (CEW); and is a Board Member for the Independent Cosmetic Manufacturers and Distributors Association (ICMAD) based in Chicago, IL. She holds a Masters in Chinese Studies from SAIS, Johns Hopkins University; Washington, DC. and Nanjing, China PRC.
About MËNAJI Men's Skincare
MËNAJI is a category leader in the men's beauty industry, founded in 2000 by a celebrity make-up artist. Sold in the USA and overseas in more than 20 countries, the product line addresses men's skincare needs with healthy skincare and undetectable skin-tone true men's cosmetics.
About American Made Beauty
American Made Beauty is an exclusive beauty portal showcasing hair, skin, body and face products, conceived of and developed in the United States celebrating both the entrepreneurial spirit of the country as well as the rigorous health, safety and quality standards for which American-made brands have come to stand.