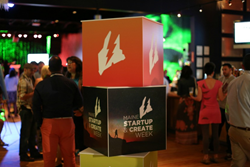 Portland, Maine (PRWEB) June 15, 2015
Maine Startup & Create Week (MSCW) – a national conference and celebration of innovators, entrepreneurs and startups – has announced there are still some tickets available to the event taking place in Portland, Maine from June 22-28, 2015.
Presented by Norton Insurance • Financial and Blackstone Accelerates Growth, MSCW is a week of educational events, thoughtful speakers, passion-fueled discussion and energized networking. There will be eight sessions each day focused on three tracks - Small Business, Food Innovation, Scale & Growth - while each afternoon a nationally recognized keynote speaker will share his/her thoughts, learnings and expertise with registrants.
A Week Pass costs $499 and offers complete access to more than 75 events, including daily keynote presentations, multiple sessions in the three tracks, evening events and daily access to the Red Thread Hub. A Day Pass costs $150 and includes the keynote presentation, multiple sessions in three tracks, evening events and access to the Red Thread Hub. The Weekend Pass, at $225, includes all Friday and Saturday events.
Keynote speakers include Donato Tramuto, founder of the Massachusetts-based company Physicians Interactive; Jules Pieri, co-founder and CEO of The Grommet, a Boston-based company that helps makers of "products with a purpose by people with stories" sell their products online; Cheryl Heller, Founding Chair of the Design for Social Innovation Department at the School of Visual Arts in New York City; Steven Kotler, co-author of Bold: How to Go Big, Create Wealth and Impact the World; and Jon Gosier, inventor, data scientist, and investor.
The full schedule can be found online at http://www.mainestartupandcreateweek.com/schedule/, with some of the highlights listed below:
MONDAY, JUNE 22

Trends in Financing for Growth – Discussion of trends in financing for companies looking to grow quickly
What Growth Looks Like in Maine – Hear from three successful entrepreneurs about how they scaled their businesses, and whether being in Maine helped or hindered their success
Rapid Prototyping: Learn how to expediently and efficiently prototype to ensure scaling quickly
Green, Clean and Stretching the Seasons: Learn how high-tech greenhouses, bio-digesters and other innovations are increasing efficiency, intensity, and sustainably for farmers
Getting A Food Product Ready for Retail: Regional and national retail buyers discuss the details of getting into regional and national chains
Donato Tramuto: Keynote Speaker
TUESDAY, JUNE 23

New Grocery Model: From Farmer's Markets to National Chains - how to look ahead to food trends to better serve our customers and our businesses
Stories of Successful Pivots: Discussion on successful pivots, in the face of changes in company culture, product development issues, design issues, user experience and customer research
New News Media: Staying relevant in the evolving face of news media
Craft Spirits in America - A panel will explore the craft spirits space by looking at challenges associated with this growth category, as well as favorable trends among distillers and consumers
Managing Conflict: How co-founders and partners manage conflict and come out on top of their business.
Customer Acquisition: Growing A Customer Base. How to get the first 100 customers, and how that's different from the next 10,000.
Early Hires: A panel discusses identifying skills gaps and hiring growth drivers before they get expensive, learning to assess ROI and whether to hire at all
From the Kitchen Stove to the Marketplace: Discussion on early problems of starting a food business, how they were solved, and how to avoid many before they happen
Jules Piere: Keynote Speaker
WEDNESDAY, JUNE 24

Owner-Operator Syndrome: Learn how to delegate a business process to ease bottleneck and promote growth
Farm to Fork 2.0: How connective software can improve farming, distributing and marketing about local food
Food Company Sustainability: A 360 Degree View: Discussion on how to be a truly sustainable food company and the balancing act of staying true to your mission and profitable at the same time
Brand Building for Growth in the Digital Age: Building and managing a brand in the digital age
Crowdfunding Sales: How small businesses can use crowd funding to fuel business growth at the local level
Reinvigorating and Innovating Traditional Crops: Learn how to get value from a harvest, moving beyond a commodity sale by telling the story of the harvest, sustainability and relationship with the source
Cheryl Heller: Keynote Speaker
THURSDAY, JUNE 25

Falling Forward: Learning from stories of failure from people who have overcome theirs
Social Media - Great When it Works: Learn from panelists who have built their businesses around social media, as well as entrepreneurs who use social media to drive non-sales indicators for their businesses
Food Distribution: Learn how a food entrepreneur starts and how to grow successful partnerships with distributors
Design Accelerant: Discussion on the role of art and design in value creation, differentiation and scale
Food Distribution: A panel will cover different distribution types and provide insights on challenges of distributors working with different types of growing companies
Valuation Narrative: Entrepreneurial tales of valuation and exit strategies
Agile Manufacturing: How to plan for manufacturing growth in an innovation economy. A discussion on planning for growth in economy, how to find manufacturers, and how manufacturers can help fill skills gap
The Art of Sales: Discussion on why sales people are the most important people in organizations and explain the recruitment, training and incentivizing of sales people
Market Insights on a Shoestring: How to evaluate a market opportunity, and use the basic market research and market testing tools to fail fast and fail cheap even before the prototyping stage
Financing Food Ventures: A panel of artists who are leading fast paced startups and prominent national companies discuss the role of art in design
Steven Kotler: Keynote Speaker
FRIDAY, JUNE 26

The Abundance Cycle: Jay Friedlander discusses how he is helping sustainable companies reign supreme through an innovative and holistic framework
Food Branding, Design and Marketing: How to tell your story while staying true to your brand and finding the right audience
When to Innovate: A discussion on when it makes sense for small companies to take on the risk and overhead to introduce product innovation
Food Incubator Models: A panel will discuss what food incubators are, citing some examples from around the country
East versus West: Why someone should start a business in Maine versus Silicon Valley or Boston
Space Matters Workshop: Learn how to transition from a bootstrapped workspace to a thoughtful and effective place of business
John Gosier: Keynote Speaker
SATURDAY, JUNE 27

Product Innovation Maine: An inside look at how good Maine companies are at positioning their products
How to Live Well and Make A Living in Portland: A look at how transplant employees and their employers are solving the trailing spouse issue
For additional information with regard to Maine Startup & Create Week, or to sign up for particular workshop, visit http://www.mainestartupandcreateweek.com/.