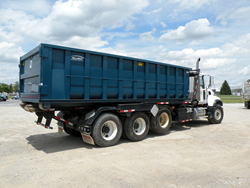 Allied commonly utilizes the units during contaminant remediation projects, spill response situations, hydro-excavation projects, well drilling service, and industrial cleaning projects
Lima, Ohio (PRWEB) June 17, 2015
To meet increasing customer demand, Allied Environmental Services, Inc. (Allied), headquartered in Lima, Ohio, recently announced that it has expanded its fleet of steel mobile storage containers, or "roll-off boxes". The containers are typically used to store and transport soils, sludges, and solidified waste materials. Allied commonly utilizes the units during contaminant remediation projects, spill response situations, hydro-excavation projects, well drilling service, and industrial cleaning projects. The roll-off boxes are also frequently rented to clients and other environmental contracting firms.
According to Gary Gootee, Allied Industrial Services Manager, the containers are constructed of reinforced steel, with a capacity of 25 cubic yards: "We now have a total of twelve containers in our fleet, which we haul with three dedicated transport trucks. We will likely be adding more containers in the near future as the demand is just that high right now."
According to Gootee, demand has also increased with the recent increase in oil prospecting and hydraulic fracturing, or "fracking", in eastern Ohio and western Pennsylvania.
About Allied Environmental Services, Inc.
Allied Environmental Services, Inc. (Allied) is an environmental consulting and contracting firm with offices in Lima, Ohio and Toledo, Ohio. For over 28 years, Allied has provided professional environmental management solutions to private industry, property owners, lenders, municipalities, schools, and hospitals. Allied specializes in industrial cleaning (vac-truck and hydroblasting services), hazardous materials management, emergency spill response, pond sediment extraction, well field services, asbestos management/abatement, underground storage tank closure, environmental consulting, and industrial hygiene services.
For more information please visit Allied's website at http://www.alliedesi.com, or contact the main office at (800) 992-5781.