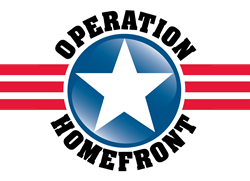 ROCKVILLE, Md. (PRWEB) June 16, 2015
Operation Homefront, the national military support nonprofit, announced today that Marguerite "Margi" Kirst, 48, has joined the organization as its chief development officer. Kirst, who most recently served as vice president of marketing for the United Service Organizations (USO), will lead donor engagement strategies to sustain and enhance the critical relief, resiliency and support programs Operation Homefront provides service members, wounded warriors and their families.
Kirst brings more than 25 years of experience in fundraising, marketing and communications for global private and nonprofit organizations to her new role at Operation Homefront. Most recently at the USO, she was responsible for creating vibrant engagement between constituents and donors and the U.S. troops and families they support. Prior to joining the USO in 2011, Kirst was vice president, constituent relations for the Autism Society of America. She has also worked for the International Foundation for Electoral Systems, Socimer International and Price Waterhouse.
"Margi is a perfect fit for Operation Homefront," said John I. Pray, Jr., president and CEO. "She clearly understands the importance of connecting donors with meaningful and measurable outcomes for the amazing people we serve – our troops and their families."
"I'm excited to join a dynamic organization that is critical to the support of our military families," Kirst said. "As a proud military family member, it's a privilege to engage our generous donors to serve those who volunteer to protect our way of life."
Kirst serves on several community charity boards in the Washington, D.C. area where she resides. She has a Master of Arts from Johns Hopkins University and a Bachelor of Arts from Trinity College in Washington, D.C.
# # #
About Operation Homefront: A national nonprofit, Operation Homefront leads more than 2,500 volunteers with nationwide presence who provide emergency and other financial assistance to the families of service members and wounded warriors. Operation Homefront has provided assistance to thousands of military families since its inception in 2002. Recognized for superior performance by leading independent charity watchdog groups, nationally, 92 percent of Operation Homefront's expenditures go directly to programs that provide support to our military families. For more information, go to http://www.OperationHomefront.net.