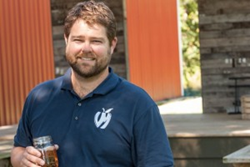 Paul is thinking big, and the hard cider market is showing all indicators that the room to grow is there.
Grand Rapids, Michigan (PRWEB) June 16, 2015
Michigan-based hard cider producer, Vander Mill, will increase its production by 400 percent with the opening of its second manufacturing and distribution location in Grand Rapids, Michigan, raising its production capacity from 225,000 gallons in 2014 to one million gallons – with the potential for up to six million gallons – upon facility completion. While cider only represents 1.2 percent of total dollars for the malt-based / cider category, Nielsen-measured channels revealed a 75.4 percent sales increase from 2013 to 2014, totaling $400 million. Vander Mill began producing hard ciders in 2008 and is currently the leading craft cider in the Midwest. As of January 25, 2015, Grand Rapids ranked 11th in the nation in cider share of all beer sales at two percent.
"Bearing in mind that Vander Mill's beginnings as a cider mill in 2006 were very humble and we did not even begin producing hard cider until 2008, an investment of this size is incredibly significant for our company," explained Paul Vander Heide, co-founder of Vander Mill. "We plan to keep the focus on our current distribution markets – Michigan, Illinois, Indiana and Ohio – through this expansion and will consider new markets once those areas are given room to accommodate our growth and anticipated growth of the market overall."
To maintain production at its current rate, a majority of Vander Mill's production equipment from its facility in Spring Lake, Michigan will be moved to Grand Rapids where it will join four new 12,000-gallon fermenters with space to accommodate an additional 25. Five employees will continue to handle production operation, while an additional 60 to 70 will be added as staff for the new restaurant taproom. A total of approximately $1.2 million will be invested to renovate the currently existing facility to match Vander Heide's vision. Colliers International | West Michigan worked with Vander Heide in identifying an existing facility for its expansion.
"Vander Mill has been incredibly strategic throughout the building search process," explained John Kuiper of Colliers International | West Michigan, who handled the transaction for the company. "Paul is thinking big, and the hard cider market is showing all indicators that the room to grow is there. Finding a facility that was a logical fit for his current vision but would also accommodate a 'sky's-the-limit' plan was key."
Vander Mill, a founding member of the Michigan Cider Association, is currently working with local farms to plant varieties of apples best fit for cider making – a process bearing more similarity to wine making than beer brewing. The hard cider company, which harvests all of its apples from Michigan's Fruit Ridge, processed close to three million pounds of apples in 2014 and approximates the usage of 12 million pounds to reach its new production capacity of one million gallons. Vander Mill offers three different series of hard cider – Core, Cyser and Heritage – in addition to specialty drafts and one-offs. Flavors range from classics like Hard Apple and Totally Roasted to fruity infusions like Ginger Peach and Apple Raspberry.
"The true mark of resilience in this industry is innovation," continued Vander Heide. "We strive to study our consumer, listen to what their wants and needs are, and strategically develop a product that will give them what they are looking for while also whetting the appetites of new consumers branching outside domestic beer or wine for the first time."
As an industry, hard cider brewing has found its way into all regions of the United States. When compared with sales of different craft beer styles (IPA, Seasonal and Pale Ale), cider would be the number two best selling when measured by volume. With many mass domestic beer drinkers trading up for other brewed options, 80 percent of hard cider drinkers are under the age of 40 – a 50/50 split between male and female – with a college education and knack for variety. Hard cider also accommodates certain dietary needs by providing individuals with gluten intolerance a refreshingly smooth gluten-free option.
For more information about Vander Mill, please visit: http://www.vandermill.com. To learn more about Colliers International | West Michigan, refer to: http://www.colliers.com/en-us/westmichigan.
###
About Vander Mill
Paul Vander Heide and his wife Amanda started Vander Mill in 2006, along with Paul's brother and sister-in-law, Stu and Christie Vander Heide. The vision wasn't elaborate: a small-town cider mill where people can feel at home. After countless hours of dedication to learning the craft of pressing, fermenting and blending; their vision still has the small-town charm, but their reach now goes across four states and still growing. Next in the works is a new bottling and distribution location in Grand Rapids, which will increase production by 400% and also feature a taproom.
About Colliers International | West Michigan
Colliers International | West Michigan is a privately-owned commercial real estate and property management services firm with specialties in office, retail, industrial and investment properties. Founded in 1995, the company comprises three offices and 63 professionals.