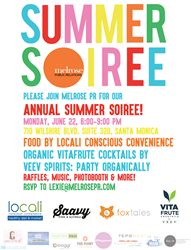 Our annual summer soiree is known for being really fun, festive and a great way to kick-off the season!
Santa Monica, CA (PRWEB) June 16, 2015
Travel, lifestyle, consumer product, and hospitality public relations firm, Melrose PR, is ecstatic to host its Annual Summer Soiree event Monday, June 22nd at its home office in Santa Monica. The guest list includes more than 100 of LA's top press, bloggers, influencers, and brands.
The event is sponsored in part by Organic VitaFrute Cocktails by Veev Spirits, Locali Conscious Convenience, FoxTales, and Saavy Naturals. In addition to receiving complimentary food and drinks, the first 50 guests in attendance will be rewarded a VIP gift bag stocked full of goodies from Melrose PR clients.
Aside from event sponsors, 15 international brands will be showcased at the event including: Pacific Rim Eyewear, pursecase, Jamie's To Do, The Point, Portraits of Hope, Hey 19 Public House, Garlic Restaurant and Bar, Liquid Martini Bar, Trackside Station and Grill, Spring Break Fiji, Main Street Santa Monica, Ortega 120, MasterPan, CYCLEPATHIC Fitness, and Biaggi.
"Our annual summer soiree is known for being really fun, festive and a great way to kick-off the season," says Kelley Weaver, Founder of Melrose PR. "It's a total win-win for our clients and our network of top influencers—it will be a chance to meet, mingle and explore collaboration opportunities."
The Summer Soiree will also include great music, a photo booth, a step-and-repeat, raffles, and an amazing opportunity to network with LA's finest!
The event will take place at the Melrose PR office in, Santa Monica, CA. Guests must RSVP to Lexie Olson of Melrose PR at Lexie@Melrosepr.com.
About Melrose PR:
Melrose PR is a Los Angeles-based boutique Public Relations firm specializing in a combination of both new media and traditional PR for the, travel, hospitality, and consumer product industries. As a hybrid agency, Melrose PR understands the value of emerging media as well as traditional print & broadcast coverage and educates clients on the importance of their social media presence. It is this innovative approach that allows Melrose PR to help brands, from relatively unknown to already established, break through the clutter and into the global media arena, as well as consistently deliver the far-reaching and long lasting results that ultimately affect the clients' bottom line.
About VEEV® Spirits:
VEEV Spirits® LLC was founded by brothers Courtney Reum and Carter Reum in Los Angeles in 2007. What started as a two-man start-up grew into one of the best-selling independent liquor brands in the U.S. VEEV® Spirits was ranked amongst the 250 fastest growing companies and brands in the U.S. by Inc. Magazine (September 2011) and won the Technomic Fast 50 Award in 2013. VEEV® is an active member of 1% for the Planet® where 1% of topline sales are donated to environmental organizations worldwide.
In 2012 VitaFrute™ Cocktails by VEEV® was launched as the first line of organic and all-natural superfruit ready-to-drink premium products under 125 calories per serving and that taste great, naturally. The newest addition to VitaFrute™ Cocktails by VEEV®, Coconut Colada joins the array of flavors including Margarita, Lemonade and Cosmopolitan. In July 2014 VEEV® Spirits unveiled VEEV® 2.0 with its reformulation from 60 to 70 proof and new positioning as the better alternative to Vodka. For more information, visit VEEVlife.com and Facebook.com/VEEV, or follow @VEEV on Twitter and @VEEV on Instagram. A Better Way to Drink™.
About Locali Conscious Convenience:
Headquartered in Los Angeles, Locali Conscious Convenience was founded by Melissa Adele Rosen and Greg Horos based on their shared passion for healthy eating and disdain for the status quo. Locali is located in Hollywood at 5825 Franklin Avenue, LA, CA 90028 and in Venice at 701 Lincoln Boulevard, LA, CA 90291. More information and the menu, may be found at http://www.localiyours.com. Localita & The Badasserie is located in Downtown Los Angeles at 817 S. Los Angeles Street, LA, CA 90014 and on the web at http://www.localita.co For general inquiries please email info(at)localiyours(dot)com.
About Foxtales:
FoxTales® creates custom interactive experiences for events. They're the life of the party, providing a fun, simple, and interactive way for attendees to capture and share "official" event memories. Their platform empowers clients to create a compelling and immersive user experience that easily flexes to tell their branded story at every touch point. More than a local party rental, FoxTales® seamlessly integrates studio quality visual experiences into clients' global marketing efforts, giving them the ability to manage campaigns, track analytics, monitor social traffic, moderate content and export collected user data. FoxTales® is a strategic creative partner that helps you #tellyourtale. Previous and current clients include: GoPro, Google, Microsoft, Pandora, Chase, Yahoo!, Guitar Center, Cadillac, New Era, People Magazine, Comedy Central, Microsoft Xbox, Oakley, Vans, Nylon and more.
About Saavy Naturals:
Saavy was created by husband and wife team, Hugo & Debra Saavedra, whose backgrounds are in food. They have owned and operated restaurants, been personal chefs and designed and created menus for other restaurants. They also introduced and grew exotic edible flowers and baby greens which were mainstays at many 5-star restaurants in Southern California. Their name was on the menu of Spago, Patina, and The Water Grill, to name a few. They know food. After years of cooking and growing herbs and edible flowers, they started experimenting with them in new ways, turning them into luxurious soaps, body creams, and body scrubs. They decided to offer some of their new creations at a local farmer's market, and the rest is history, as they say! They are also great lovers of beauty, whether it's nature, art, music, or an amazing meal. Just as a great chef cooks not only for the sense of taste, but also for the eyes, the nose, for all of the senses, they create a feast for your senses with their food for your skin.