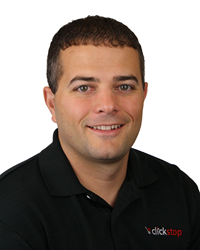 "This announcement is positive for Clickstop, our local communities and Iowa's economy."
Urbana, Iowa (PRWEB) June 16, 2015
Clickstop will announce plans for a $6 million expansion that will bring an estimated 100 new jobs to the area by the end of 2018.
Company Founder and CEO Tim Guenther will unveil preliminary plans when Iowa Economic Development Authority Director Debi Durham comes to tour the Urbana based company on Wednesday, June 17. Durham is visiting Benton County as part of a local economic event hosted by the Benton Development Group. Her visit to Clickstop is just one stop as she seeks to better understand the needs of businesses in rural Iowa.
"We look forward to showing Director Durham our company and sharing our plans for the future," Guenther said. "It's an exciting time to be at Clickstop."
Clickstop owns and operates several brands out of its two facilities in Urbana. The company serves diverse markets ranging from the moving and cargo control industries to energy efficient insulation, fasteners and home storage solutions.
Clickstop is experiencing rapid growth. This is the company's second building expansion to its Blue Creek Drive office since it opened in 2011. In the past decade, Clickstop has surged from a handful of employees to more than 120. Two years ago, the company began manufacturing tie-down products for its flagship brand US Cargo Control. Since then, the brand's customer base, product lines and manufacturing sector have boomed.
Recent Iowa Workforce Development numbers show a decline of 3,200 manufacturing positions from March to April of this year. Clickstop is bucking that trend as it added a second manufacturing shift in January 2015 and is still hiring to date. With plans to break ground on the expansion in September, the company's manufacturing capabilities will increase with a larger floor space and additional employees.
Guenther will talk about the expansion project starting at 11 a.m., Wednesday June 17. A tour of the company's current facilities with Director Durham will follow. Media are welcome to attend.
"We are extremely fortunate to have experienced such success in a short amount of time and we know our location in Urbana and the resources available here have helped us along the way," Guenther said. "This announcement is positive for Clickstop, our local communities and Iowa's economy."
###
About Clickstop, Inc.
Clickstop is the parent company of a suite of brands based in Urbana, Iowa. Its focus on great workplace culture has landed the company multiple work environment-focused awards including two first place achievements as the Coolest Place to Work. Clickstop serves diverse markets that include the moving and cargo control industry, energy efficient insulation products, and home organizing solutions. For more information visitClickstop.com.