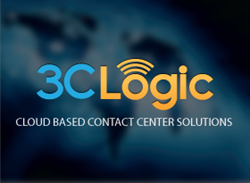 It will make for a big difference and potentially a competitive differentiator for many.
Rockville, MD (PRWEB) June 16, 2015
3CLogic, a leading provider of cloud call center software today announced the release of its latest software enhancement in which it unveiled its new powerful inbound routing solution for all asynchronous communications such as email, SMS, and Social Media. The addition enhances and complements its current routing capabilities of all synchronous communication channels, such as voice and chat.
"Many of the more modern channels available today, such as email, SMS, and Social Media lack the same intelligent routing capabilities commonly associated with telephony and chat," explains Robert Killory, Chief Innovation Officer at 3CLogic. "For today's clients, their expectations, as they relate to customer experience, do not change from one channel to the next which underlines the value of being able to address these asynchronous and synchronous channels in a uniform way."
Among the highlights:

Intelligent workflow engine for inbound routing of asynchronous communications (email, text, social media, etc.)
Ability to expose all known customer data points to facilitate customization at the individual level to enhance the customer experience.
Open architecture to allow rapid addition of new channels (i.e.: fax) as market dictates.
While voice continues to remain the preferred method of contact for many consumers, the use of multiple alternative channels to communicate with businesses, including email, text, and social media, has increased the need for organizations to address each in a unified and consistent manner comparable to current voice platforms. More importantly, the ability to transition consumers between channel type, asynchronous to synchronous or vice versa, within the same session will be of significant benefit to 3CLogic clients. "Customers will be provided a seamless experience with the businesses they interact with," states Robert. "It will make for a big difference and potentially a competitive differentiator for many."
The recent enhancements are currently available to all current and future prospects and will be available for demonstration at this year's Call Center Week 2015 Conference and Expo in Las Vegas June 16th-18th, where 3CLogic as among the event's sponsors.
About 3CLogic
3CLogic is a leading provider of multichannel cloud contact center software designed for today's enterprise businesses. A true cloud solution, hosted on AWS, it offers seamless integration with other cloud-based solutions, including CRM, Ticketing, WFO and WFM, to allow any organization to migrate from premise-based or cloud platforms without disrupting existing business workflows. Built on a unique distributed infrastructure, it avoids the traditional pitfalls of current solutions while providing market-leading security, scalability, system flexibility, and reliability. Built to enhance sales performance, customer experience, and overall rep productivity, 3CLogic provides a powerful communication framework to help complement any business initiatives. For more information, please visit http://www.3clogic.com or blog.3clogic.com.