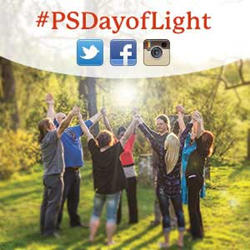 With all the turmoil in the world today, we invite everyone to come together on one day, along with our gifted psychics and healers, to channel positive energy to each other and the entire planet.
Langhorne, PA (PRWEB) June 17, 2015
ISIS. Droughts. Hurricanes. Refugees. The dire news from around the world is enough to send anyone into despair. After all, what can one individual do to counteract such powerful forces? But wait. Psychic Source, the most trusted psychic service since 1989, is organizing its "2nd Annual Day of Light," on June 21st, 2015, bringing together energy channelers, healers, and all concerned world citizens, to generate a powerful wave of collective positive energy that will benefit every individual and the world as a whole.
"Last year our first Day of Light was so successful, bringing together so many of our Advisors and customers and generating so much positivity, that we wanted to do it again – this time with even more participants," said Maryanne Fiedler, Marketing Director at Psychic Source.
Plans for this year's Day of Light include a collective meditation at noon, EST, during which over 140 participating Psychic Source Advisors will meditate for goodness, projecting positive energy to those who ask to be included.
How do you ask to be included? Post "I need positivity for ____________ #PSDayofLight" by June 20th on the Psychic Source page at Facebook, Twitter, or Instagram. The Instagram handle is @PsychicSource.
You can even do all three!
Everyone is also invited to meditate for peace at the designated time, tapping into the group's force for good, and counteracting the negative forces that can seem so overwhelming in our everyday lives. As the Psychic Source website puts it, "If we all put our intentions into the Universe together, great things can happen!"
For more information on the Day of Light go to http://www.psychicsource.com/article/health-wellness/spreading-positive-energy-the-second-annual-day-of-light/8250/
*****
About Psychic Source:
Founded in 1989, Psychic Source is the nation's oldest and most respected psychic service. Psychic Source's advisors are experts in astrology, horoscopes, numerology, tarot cards, clairvoyant readings, and many other psychic disciplines. Psychic Source believes in its community of authentic Psychics and stands behind the authentic psychic readings they deliver to clients. Visit them online at http://www.psychicsource.com.
For more information, contact:
Maryanne Fiedler, Marketing Director
maryanne(at)psychicsource(dot)com
215-953-8568