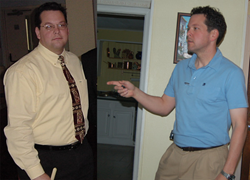 Diet Doc acknowledges Men's Health Week and focuses on methods that they can help men avoid heart disease through safe, fast and comfortable weight loss.
Los Angeles, CA (PRWEB) June 17, 2015
In recognition of Men's Health Week, the professionals at Diet Doc are taking a closer look at the effects of carrying excess fat in relation to heart disease, the nation's number one killer of men. Their intense and ongoing research has enabled them to develop diet plans that are geared toward improving men's health by reducing their heart disease risk by losing dangerous excess fat through simple, easy to follow diet plans that include education and unlimited personal support and guidance.
While many risk factors, including high cholesterol, smoking, high blood pressure and being overweight, profile the status of the cardiovascular system, even those with medically stable and suitable cholesterol levels can be at risk for heart attack. And, while cholesterol may be one link in the metabolic risk chain for heart disease, belly fat poses an equal, or maybe an even greater risk, because of its association with high triglyceride levels (fat in the bloodstream), high blood insulin levels, increased LDL and decreased HDL. With these statistics in mind, Diet Doc designed their diet plans that target hard to reach, stubborn and difficult to lose belly fat.
The heart, the body's electrical pump, is composed of muscle and cells that produce and conduct electrical signals. High cholesterol foods, processed foods and fatty foods can cause plaque to build in the arteries, causing the arteries to become narrow, compromising blood supply to the heart. If the plaque ruptures, the body attempts to heal by forming a clot in the artery. The clot then obstructs the artery, stopping blood flow to the heart, short circuiting the body, and resulting in a heart attack or even sudden cardiac death. Diet Doc's goal is to improve men's health by guiding patients toward simple lifestyle changes that will, not only, reduce their heart disease risk, but also enhance their physical and emotional health.
Because Diet Doc understands and respects each man's privacy, they have developed diet plans that include close, personal attention, yet eliminate the need for time consuming, costly and embarrassing visits to doctor's offices or weight loss clinics. Now, men who are interested in reducing their cholesterol, decreasing their blood pressure and reducing their risk for heart disease and heart attack, can simply call the company or visit http://www.dietdoc.com to complete a simple, yet thorough, health questionnaire and schedule a one-on-one online consultation with one of the company's highly trained weight loss doctors. A review of the system and assessment of health conditions, activity level and nutritional needs enables the doctors to recommend the safest, most effective and most comfortable method of weight loss for each man.
Next, easy to follow meal and snack plans are designed by certified nutritionists that are specific to each man's personal needs and that keep the body operating at optimal capacity, leaving them feeling full and satisfied. And, because Diet Doc understands that dieting headaches, between meal hunger, food cravings and fatigue can get in the way of weight loss goals, they include their pure prescription hormone diet treatments, powerful fat burners, exclusive diet pills and appetite suppressants that work flawlessly with the meal plans to turn the body into a fat burning machine, while eliminating side effects and allowing men to safely, quickly and comfortably lose excess fat, enjoy a more active lifestyle and reduce their risk for heart disease and heart attack.
Diet Doc's partnership with Telemedicine enables the company to help people throughout the country by bringing safe, effective and fast weight loss into the comfort of each patient's home. Their utilization of the most modern technology enables even those patients in the most remote regions to consult with doctors, schedule weekly progress calls, work closely with nutritionists and reach out to their weight loss team for questions, concerns, suggestions and support at any time throughout their program.
Diet Doc has become a trusted and reliable leader in the weight loss industry by delivering safe, consistent and effective diet plans to people throughout the country. They invite those of all ages, genders, shapes and sizes to call today to begin the journey toward improved health and a reduced risk for heart disease and heart attack through safe, quick and comfortable weight loss.
About the Company:
Diet Doc Weight Loss is the nation's leader in medical, weight loss offering a full line of prescription medication, doctor, nurse and nutritional coaching support. For over a decade, Diet Doc has produced a sophisticated, doctor designed weight loss program that addresses each individual specific health need to promote fast, safe and long term weight loss.
Diet Doc Contact Information:
Providing care across the USA
Headquarters:
San Diego, CA
(888) 934-4451
Info(at)DietDoc(dot)info
http://www.dietdoc.com
Twitter: https://twitter.com/DietDocMedical
Facebook: DietDocMedicalWeightLoss
Linkedin: https://www.linkedin.com/company/diet-doc-weight-loss?trk=biz-brand-tree-co-logo