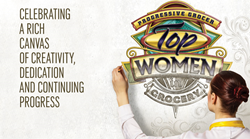 Deerfield, Illinois (PRWEB) June 18, 2015
A slate of 300 women hailing from some of the most admired organizations in the U.S. supermarket industry have been named as 2015 Top Women in Grocery by PROGRESSIVE GROCER, the nation's leading supermarket industry trade media brand.
Now in its ninth year, PG's Top Women in Grocery awards program recognizes the integral role women play across all areas of the dynamic retail food industry within the retailer and supplier communities in three sectors: Senior-Level Executives, Rising Stars and Store Managers.
"Long before formal movements were established to encourage and empower women to lean in and step up, Top Women in Grocery served as a tenacious catalyst trumpeting the fact that in an increasingly competitive marketplace, female decision-makers are an inherent, advantageous asset that progressive organizations are astutely aware can't be ignored," said Meg Major, PG's Chief Content Editor.
Commenting on this year's exceptional contingent of watch-worthy women, Major said the 2015 judging panel "poured over hundreds of applications in search of candidates – many of whom continue to excel, not only in traditional female niches, but also in nontraditional roles previously held only by men – who went above and beyond their core responsibilities to deliver exceptional results. We are privileged to recognize and congratulate each and every one of our 2015 Top Women in Grocery winners," added Major, "whose collective achievements underscore the central mission we aspire to bring to the forefront with this important awards program – namely, that gender diversity isn't merely a nice thing to have, but instead a strategic advantage on all fronts."
All of this year's Top Women in Grocery winners are prominently recognized in PG's June 2015 issue, whose cover story is titled "Portraits of Success," and will also be honored at a gala networking event and awards celebration that will take place Nov. 12, 2015, at the Hyatt Regency Grand Cypress, Orlando, Fla., highlights of which will include educational and networking sessions, a gala event, an after-dinner dessert party and much more.
The full list of PG's 2015 Top Women in Grocery can be found here.
For additional information, please contact:
Meg Major
Chief Content Editor
PROGRESSIVE GROCER
724-453-3545
mmajor(at)stagnitomail(dot)com