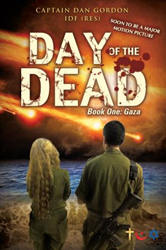 'Day of the Dead: Book One - Gaza' is a gripping story as real as today's and tomorrow's shocking headlines.
Sedona, AZ (PRWEB) June 30, 2015
Hollywood screenwriter, Dan Gordon, uses his first-hand experience as a veteran of the Israeli Defense Forces in his captivating thriller, Day of the Dead.
Set in Gaza, Day of the Dead draws insurmountable parallels to modern-day terrorism with the rise of ISIS in Iraq. In 2009, Hamas began digging a secret network of forty terrorist attack tunnels from Gaza deep into Israel. The object: kill, maim, and take hostage as many Israeli men, women, and children as possible and achieve a "divine victory" over the Zionist enemy.
At the same time, Iran, fearing a possible U.S. attack against their nuclear weapons program, told Hamas to cut a deal with the Cartels in Tijuana, Mexico. They made them an offer they couldn't refuse—they built the tunnels: the exact same network of forty tunnels running from Tijuana to down town San Diego. The Cartels can smuggle all of the drugs they want on the condition that should the need ever arise, Iran and Hamas can use them for a deadlier purpose.
ISIS's plan? To infiltrate 1000 ISIS terrorists armed with antitank missiles, machine guns, grenades, tranquilizer shots, and hand cuffs. The objective? Sink the Pacific Fleet at anchor in San Diego, wipe out one half of the American Navy Seal Force, and kill, maim, and kidnap hundreds of American women and children to be drug back through the tunnels into Tijuana to be burned alive or beheaded on YouTube.
It will be up to an ad hoc team made up of a twenty year veteran Navy Seal; a tormented DEA agent; a drop dead gorgeous born-again CIA Agent with her own tortured past; and an embittered American-born, Israeli raised, half Irish, half Jewish Israeli Military Intel officer, to lead an underground battle in the tunnels beneath San Diego to save America from the worst terrorist attack in history.
Sci-fi: Imaginative extrapolation of true natural phenomena, existing now, or likely to exist in the future. Dan Gordon has created Terror-Fi.
"Dan Gordon has crafted a tale about the vicious world of radical Islamists, criminal gangs, and their victims. His incredible 40 years of service in the Israel Defense Force, knowledge of the US and the Middle East, and ability to spell-bind enables readers to feel the pulse of terror and see into the dark minds of evil incarnate. 'Day of the Dead: Book One - Gaza' is a gripping story as real as today's and tomorrow's shocking headlines," said General Robert Magnus, USMC (Ret).
Dan Gordon is the author of fifteen Hollywood features, including The Hurricane, Wyatt Earp, Murder in the First, The Assignment, and Passenger 57. Gordon has also amassed hundreds of hours of television programming as a writer, director, and/or executive producer, including head writer on many of Michael Landon's Highway to Heaven. Gordon's plays have been produced on Broadway and London's West End. Day of the Dead: Book One - Gaza is Dan's seventh published novel and is soon to be a major motion picture.
Media Contact: Janet Fallon
Email: Janet(dot)fallon(at)gmail(dot)com
Office TEL: 703-469-3766