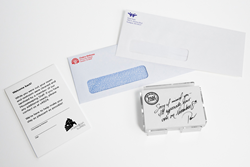 "We're now pleased to offer practical spot color Post-it® Notes as well as mailing and business envelopes online," says Michael Johnson.
North Mankato, Minn. (PRWEB) June 22, 2015
Navitor, located in North Mankato, MN, is pleased to announce the addition of new products to the company's online spot printed products offering: business envelopes, mailing envelopes, and short run Post-it® Notes. These products join the spot color letterhead, stationery envelopes, and business cards that are already available through Navitor.com.
According to Michael Johnson, Director of Business Development, these new products are part of the company's dedication to its customers. "We are committed to making Navitor.com a one stop shop for our customers, and we're excited to make most popular 1-color business envelopes and Post-it® Notes just a click away."
Navitor will also be offering special introductory pricing for the company's entire online selection of spot color print products, allowing buyers to save 15%. This offer is exclusively for Navitor resellers and will be available July 1st through July 31st.
These new online offerings are available for online order now. More information about Navitor and the company's selection of products can be found at Navitor.com.
About Navitor
Navitor Inc. is one of America's largest commercial wholesale printers, delivering innovative programs, services and technologies exclusively to our community of resellers. Headquartered in Minnesota and with manufacturing facilities nationwide, Navitor provides print resellers and distributors the industry's widest catalog of personalized print and custom business identity products. Navitor is part of the Taylor Corporation family of companies. For more information, visit our website at Navitor.com.