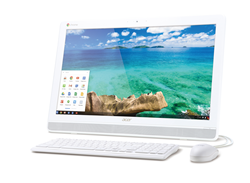 The Acer Chromebase is ideal for customers wanting to leverage the speed and simplicity of the Chrome OS.
SAN JOSE, Calif. (PRWEB) June 22, 2015
Editor's Summary:

Acer Chromebase DC221HQ all-in-one (AIO) desktops feature two options; one with 10-point touch technology
NVIDIA® Tegra® K1 quad-core processor provides ample power for multi-tasking, even when running heavy workloads
The 21.5-inch 1080p Full HD display delivers beautiful image quality and wide viewing angles up to 178 degrees
Tiltable stand is adjustable from 15 to 75 degrees and an optional VESA-compatible stand, bracket, arm- or wall-mount makes these systems suitable for use in public areas
Fast booting OS, automatic system updates and multiple layers of security support a simple, low maintenance computing experience
Acer America has announced the expansion of its Chrome OS line in the United States to include the Acer Chromebase DC221HQ series. Featuring two models, one with touch and another without, both Acer Chromebase configurations are ideal for customers wanting simplicity, security and speed in an affordable and space-saving form factor.
These all-in-one desktops with a 21.5-inch display round out Acer's Chrome OS offering, which already includes Chromebooks and Chromebox compact desktops. Furthering Acer's leadership in the Chrome OS market, the touch-enabled model is the industry's first all-in-one Chrome OS desktop with a touch display.(1) Acer launched the first 15.6-inch display Chromebook earlier this year and also offers the fastest-performing commercial Chromebook.(2) According to Gartner, Acer is the world's leading Chromebook brand with more than 36% market share in 2014.(3)
Space Saving
The Acer Chromebase was designed for space-constrained areas such as call centers, financial bullpens, libraries, reception areas, kiosks and homes that need to leverage the ease and security of the Chrome OS ecosystem and want the benefits of the extra viewing area provided by the 21.5-inch display. This form factor provides multiple viewing options when mounted to a VESA-compatible stand, bracket, arm or wall mount suitable for search and navigation use in public areas.
"The Acer Chromebase is ideal for customers wanting to leverage the speed and simplicity of the Chrome OS," said Simon Chen, Acer America senior business manager. "We're confident customers will also appreciate the automatic updates and layers of security that make this platform easy to use and hassle-free and at an affordable price."
Speedy
The Acer Chromebase is available with a 10-point multi-touch screen for $429.99 or a non-touch screen for $329.99. Outfitted with an NVIDIA® Tegra® K1 quad-core processor and a 16GB(4) Solid State Drive, both Acer Chromebase configurations are fast, booting up in about 10 seconds and resuming nearly instantly from sleep mode. The models also come with a complimentary 100 gigabytes of Google Drive storage for two years, so users have plenty of space for storing documents, music, movies and photos.
The Chrome OS supports multiple users and accounts, so multiple users can maintain privacy while sharing the same account. In addition, photos, videos, music and documents are synchronized and backed up with the user's Google account. These AIOs come with 4GB of DDR3 1600Mhz memory and NVIDIA Kepler™ graphics for clear imagery. A built-in HD webcam enables customers to chat face-to-face with co-workers, family and friends on Google Hangouts with superb video quality on the 21.5-inch 1080p Full HD display.
Two 3W audio speakers deliver clear sound and ample connectivity is provided via HDMI out, USB 3.0 and USB 2.0 ports as well as 802.11a/b/g/n Wi-Fi and Bluetooth 4.0 wireless. The systems are quiet even when operating heavy workloads. They're powered by a 65W AC adapter and come bundled with a white USB keyboard and mouse.
Simple
The Acer Chromebase series is easy to use. After the user signs into Chrome with a Google account, they're automatically signed into Google services. These devices are outfitted with pre-installed apps, while over 30,000 additional apps, themes and extensions are available on the Chrome Web Store.
Secure
Featuring data encryption and verified boot, layers of security safeguard the Acer Chromebase against online threats, malware and viruses. User and system files are stored on separate partitions that secure data and simplify restoration from a backup. The Chromebase's TPM 1.2 chip encrypts and protects individual user's data by generating and storing secure cryptographic keys. In addition, individual accounts keep data safe when the device is used by multiple users.
Pricing, Availability and Warranty
The Acer Chromebase non-touch model is available this month at leading online retailers for a MSRP of $329.99 with the multi-touch version following in July for a MSRP of $429.99.
The Acer Chromebase line is backed by professional, high-quality technical support and a standard one-year parts and labor warranty,(5) which can be extended to three years with Acer Advantage service. Acer's online community at community.acer.com provides customers discussion forums, answers to frequently asked questions and the opportunity to share ideas for new and enhanced services and products.
About Acer
Established in 1976, Acer is a hardware + software + services company dedicated to the research, design, marketing, sale, and support of innovative products that enhance people's lives. Acer's product offerings include PCs, displays, projectors, servers, tablets, smartphones, and wearables. The company is also developing cloud solutions to bring together the Internet of Things. Acer employs 7,000 people and ranks No. 4 for total PCs globally.(6) Revenues for 2014 reached US$10.39 billion. Please visit http://www.acer.com for more information.
© 2015 Acer America Corp. All rights reserved. Acer and the Acer logo are registered trademarks of Acer Inc. Other trademarks, registered trademarks, and/or service marks, indicated or otherwise, are the property of their respective owners. All offers subject to change without notice or obligation and may not be available through all sales channels. Prices listed are manufacturer suggested retail prices and may vary by location. Applicable sales tax extra.
1.) Announced on April 1, 2015
2.) Valid as of March 7th, 2015 for the CoreTM i5 SKUs of Acer Chromebook 15 (consumer model name: CB5-571, commercial/EDU model name: C910). In direct comparison to competing Chromebooks, the CoreTM i5 SKUs of Acer Chromebook 15 (CB5-571 and C910) scored the best result on the following five benchmark tests which are commonly used in the Chromebook segment of the industry for measuring JavaScript engine performance: PeaceKeeper, Octane, Kraken-1.1, RobohornetPro, and SunSpider-1.0. Specification and availability vary depending on model, SKU, and region.
3.) Gartner "Market Share: Devices, All Countries, 4Q14 Update" 13 February 2015
4.) Accessible capacity varies: (MB = 1 million bytes; GB = 1 billion bytes)
5.) Limited warranty agreement applies. For a copy, write to Acer Customer Service, P.S. Box 6137, Temple, TX 76503.
6.) IDC FY2014