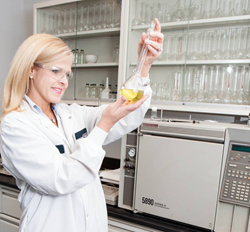 Canton, OH (PRWEB) June 17, 2015
Already off to the races at Midwest's Innovation Center, R&D research expert Kelly Carden takes the helm of Midwest's market leading team of scientists. To say her vast R&D experience is impressive would be an understatement — Carden served as a quality systems specialist for Nestle, did analytical chemistry, pharmaceutical compounding, and quality control for Gojo, and also conducted gas chromatography research at Emerson Process Management. Most recently, Carden served as an R&D leader for SD Myers, one of the top companies in the transformer industry, where she spearheaded research and also taught courses. Now, Midwest is proud to have her join our team as the leader of the newly-coined Innovation Center.
Carden has already set inspiring goals for her work at Midwest as a researcher. She will focus on improving legacy products as well as developing new ones to make Midwest's solutions even more efficient and effective for our clients. Not only will Carden run R&D operations and innovation initiatives in the Midwest lab, but she'll also be out in the field and working on the operations side, visiting customer sites, evaluating Midwest's products, and observing the application processes. She'll be on the lookout for ways to improve Midwest's products and methods across the board. According to her, a product's success in the lab is one thing — it needs, of course, to perform just as well in the field in a variety of weather and environmental conditions.
Carden is responsible for renaming the "R&D Lab" the Innovation Center — a bold and inspiring reform that signals Midwest's continued emphasis on finding creative, cost effective, and comprehensive solutions to the problems faced by heavy industry companies and governments worldwide. The lab has always worked on developing and testing entirely new products — and according to Carden, "that's innovation." Her goal is to streamline and organize the R&D process to make it the best it can possibly be, and to continue to push Midwest's already-impressive products to new levels of efficiency. Right now, the lab has 56 projects in the works, 11 of which are aptly-named "hot projects" — the main research focal points for the research team.
There's no doubt that Carden will continue to bring her unique combination of energy, experience, and optimism to the Midwest team and her addition promises to be a big boost to the R&D department. With Carden as the new captain of the Innovation Center, Midwest will continue to deliver the highest-quality products to its clients, with even more extensive testing and expertise behind them.