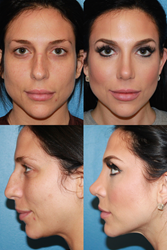 I can't tell you how many times I have performed a substantial change in a patient's nose, and they tell me that their friends can't figure out what they did, only that they look great! When I hear that, I know I have done an excellent job. - Dr. Chasan
San Diego, CA (PRWEB) June 19, 2015
Rhinoplasty, or reshaping the nose, can be one of the most positively significant events in one's life. Just ask celebrity personal trainer Jillian Michaels, who was recently quoted in Extra as saying that her nose job helped her feel more confident as a teenager. Thousands of people have benefited from enhancing their appearance by nasal surgery. Dr. Paul Chasan, the renowned plastic surgeon from Del Mar, who is very experienced with rhinoplasty, discusses some the benefits of improving one's nose and facial appearance.
"The biggest misconception regarding rhinoplasty is that it will completely change one's appearance.," said rhinoplasty surgeon Dr. Chasan. "Even in the most dramatic cases, the patient looks like the same person, but enhanced. Generally, removing the deformities of someone's nose whether it be a hump or a bulbous tip, deflects the attention from that portion of the nose to the person's other positive features such as her eyes, cheekbones, lips, and overall facial form."
Suddenly, all of the beautiful features of one's face stand out, and the nose blends with remainder of the face.
"I can't say how many times I have performed a substantial change in a patient's nose, and they tell me that their friends can't figure out what they did, only that they look great! When I hear that, I know I have done an excellent job," commented Dr. Chasan.
Rhinoplasty usually takes 1 ½ to 2 hours to perform and most patients can be in public with minimal makeup by a week. Today's techniques allow a much more speedy recovery than ever before. However, it is vital to choose a surgeon carefully since the nose is one of the most prominent parts of the face. Rhinoplasty is an experience and artistic driven procedure. As such, patients will want to make sure surgeons have done hundreds of rhinoplasties and see many examples of a surgeon's work to make sure future aesthetics are in line.
Dr. Chasan states, "Rhinoplasty is where subtle changes make a big difference and patients should make sure surgeons are sensitive to these subtleties."
Dr. Paul Chasan is a board-certified and nationally recognized plastic surgeon who specializes in performing the most advanced cosmetic procedures for the face, body, and breast. At Ranch and Coast Plastic Surgery in Del Mar, Dr. Chasan is renowned for his exceptional work in Rhinoplasty as well as facial rejuvenation, and breast surgery. Regarded as an expert in his field due to his extensive education and experience, Dr. Chasan has authored numerous publications and is often called upon by the media to discuss the latest techniques and trends in modern cosmetic surgery.
For more information about Dr. Chasan and his state-of-the-art plastic surgery center, visit http://www.drchasan.com.