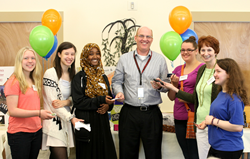 Des Moines, WA (PRWEB) June 19, 2015
Students at the Federal Way Public Academy (FWPA) collected $433.66 during an iPod drive, accepted used iPods and donated all proceeds to Wesley Homes Des Moines Health Center for its Music & Memory program.
The Music & Memory program consists of personalized music playlists that are uploaded to iPods and played through headphones. The music helps those with dementia or Alzheimer's disease interact with their surroundings. Sometimes this interaction energizes so patients can engage with others and sometimes it calms those who are agitated.
FWPA students recently visited the Health Center, where Wesley Homes' Chaplain Michael Byrd welcomed them. He provided information on the effects of the program before the students were allowed to see those effects first hand.
They were able to observe how Ella* danced, colored inside the lines, bobbed her head, connected with those around her and laughed while listening to Michael Jackson's "Thriller"; watch as Edward* was once again able to color inside the lines of his coloring book while his headphones piped in his favorite music; and listen as Margaret* clearly recalled lyrics and sang along to her beloved hymns.
"It's wonderful to have the students interested in Music & Memory," said Chaplain Byrd. "We all enjoy music, which is overwhelmingly associated with positive memories. It has an emotional impact on us, but more importantly, our brains have the ability to retain it. This program is a significant way for us to help memory impaired people reconnect, restoring their sense of self even if it's for a short while. It's a joy to be able to share this program with the students."
The collection by the FWPA students, ages 11 to 16, was part of the school's community service group project. They learned about the Music & Memory program from Kurt Lauer, Principal of FWPA. Lauer viewed "Alive Inside", winner of the Audience Award at the 2014 Sundance Film Festival, and the school screened it at an assembly. The students rallied around the Music & Memory program and with Dawn Dale, Testing Coordinator for the Federal Way School District, decided Wesley Homes would be the recipient of their fundraising efforts.
According to the "2014 Alzheimer's Disease Facts and Figures Report" produced by the Alzheimer's Association, every 67 seconds someone in the United States develops Alzheimer's. More than 5 million Americans are living with the disease.
For more information about Music & Memory, visit wesleyhomes.org.
*Names have been changed for privacy.
Founded in 1944, Wesley Homes is a not-for-profit organization that provides a network of services offering a continuum of care for over 1,800 older adults with two retirement communities in south King County, a private pay home care agency and a Medicare-certified home health agency. It is affiliated with the Pacific Northwest Annual Conference of the United Methodist Church.
# # #
Wesley Homes
Retirement Communities, Home Health Services & Foundation
206.824.5000