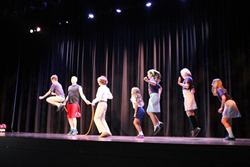 West Palm Beach, FL (PRWEB) June 18, 2015
Guinness World Record Holder David Fisher, AKA The Rope Warrior, has jumped his way into books, TV shows, countless live shows and a series of energetic music albums and his own instructional books. His incredible jump rope tricks, stunts, extraordinary speed and record-breaking jumps have been seen on over 100 national television programs, including The Today Show, Good Morning America, The NBC Nightly News, SportsCenter and CNN. David's amazing agility and skill have won him the title of World's Greatest Rope Jumper by Ripley' Believe It Or Not! and he is also a Guinness World Record holder. The Rope Warrior shows aspiring jump ropers how they can become rope stunt men and record holders themselves and amaze friends and family with incredible speed and agility.
The Rope Warrior is now the Rock and Rope Warrior, teaching kids and adults everywhere to get in shape while having fun. Recently, David spent the day on Rosarian Academy's campus in conjunction with the school's Jump Rope for Heart event, which raises money for the American Heart Association.
Mr. Fisher initially performed in front of the school at the morning assembly from 8:10am to 9:00am. When the kindergarten through fourth grade class students went to their PE classes in the Garvy Gym, throughout the school day, they were treated to jumping rope with The Rope Warrior. All of the PE class students enjoyed jumping their way to having healthy hearts, while raising money for a heart healthy cause.
The students raised over $9,000 in support of the American Heart Association (AHA) to help with the fight against our nation's #1 and #5 killers – heart disease and stroke. Most people lack a basic understanding of heart failure, a public health threat affecting nearly 6 million Americans, according to a recent national survey commissioned by the American Heart Association. An estimated one in five Americans will develop heart failure in their lifetime, according to the AHA. One in nine deaths include heart failure as a contributing cause. In the U.S., the condition costs more than $30 billion a year in hospitalizations and other costs. Through the Jump Rope for Heart event, students learned about the benefits of regular physical activity and heart health, as well as the value of giving back to those in need.
Founded in 1925, Rosarian Academy educates students in early childhood through eighth grade and offers an exceptionally strong academic program enriched by athletics, visual and performing arts, and community service opportunities. The private, coeducational school is located on Flagler Drive in downtown West Palm Beach and is sponsored by the Adrian Dominican Sisters. If you would like to engage Rosarian Academy socially, please join us on Facebook or Twitter or for more information, visit http://www.rosarian.org or call 561.832.5131.