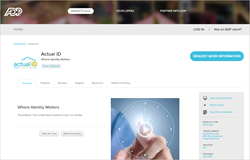 With Actual iD, ADP customers will be able to more efficiently and accurately track employee work time, absences & easily transfer this data to payroll, eliminating any errors common with manual data entry or manual transfers from one system to the other
TORONTO, ON (PRWEB) June 18, 2015
Actual iD today announced the availability of its cloud-based time and attendance application on ADP® Marketplace to help companies simplify time tracking, absence management and improve the efficiency of payroll processes.
Cloud-based time and attendance from Actual iD joins an ever-growing lineup of critical HCM and business applications that enable employers to optimize decision-making by seamlessly integrating workforce data across their company through secure ADP application programming interfaces (APIs).
"One in six businesses uses ADP for payroll service. We are fortunate to be able to partner with an organization of this stature. Together ADP and Actual iD are providing a simpler, more comprehensive HCM solution offered to a broad spectrum of ADP customers," said David Sanderson, Actual iD Executive Vice-President. "Our cloud-based time and attendance application is truly a complimentary technology to ADP's payroll solutions. With Actual iD, ADP customers will be able to more efficiently and accurately track employee work time, absences and easily transfer this data to payroll, eliminating any errors common with manual data entry or manual transfers from one system to the other."
Actual iD's cloud-based application for time and attendance includes fingerscan time clocks which eliminates the potential for time theft or buddy punching – resulting in immediate payroll cost reductions over and above efficiency gains in the payroll process. Actual iD works with a business' unique requirements for scheduling, managing overtime, dealing with exceptions and providing alerts through real-time visibility of staff. Use it to track busy service departments, manufacturing floors, reception, administration, sales, and manage employees in a single building or across multiple locations in a business. The application goes beyond time and attendance management to include HR functionality to effectively manage vacations and sick time as well as compliance with state or provincial labor laws for issues like mandatory breaks and overtime that vary regionally.
ADP Marketplace is a new cloud-based app store designed to help employers dynamically manage an ecosystem of enterprise applications from ADP and world-class partners. This enables companies of all sizes to extend the value of their workforce solutions seamlessly across their entire organizations via a secure, single-sign-on process.
According to the ADP Research Institute®, the typical large company operates more than 31 separate HR applications and 33 payroll systems*. Many HR systems currently lack the ability to share workforce data with each other – and other core business systems. Today's constantly evolving business environment requires a digital enterprise application shopping experience and seamless data integration capabilities across solutions to drive meaningful business productivity.
"Many companies struggle to integrate core HCM and business applications. ADP Marketplace empowers employers to overcome that challenge so they can focus on boosting their business agility and their employees' success," said Don Weinstein, Senior Vice President, Product Management, ADP. "Actual iD's clients can access pre-integrated workforce data in real-time through one intuitive platform while tapping into a growing ecosystem of trusted HCM apps to meet their evolving business needs."
ADP Marketplace continues to add new HCM applications to meet the business community's current and future needs. To learn more about ADP Marketplace, visit marketplace.adp.com. To access Actual iD on the ADP Marketplace, visit https://marketplace.adp.com/apps/27885#!overview.
*from "Harnessing Big Data: The Human Capital Management Journey to Achieving Business Growth" 2015
About Actual iD
Actual iD builds simple to use time and attendance solutions for business owners with multiple locations to manage the "true identity" of people, eliminating the management of approximation technologies such as punch cards, time clocks or PINs. The Actual iD team is focused on solving the unique challenges of business owners managing multiple locations with 2 to 100 locations. The company delivers a measurable return on investment to business at a reasonable monthly cost. The fingerscan time clock solution is connected to the highest performing biometric clocks available worldwide and is activated for customers centrally for a national, customer network of locations. The cloud-based time and attendance application provides secure remote access and storage. It is completely customizable to the operation of a business, right down to the departmental level; use it to manage time and attendance and automate payroll administration for greater efficiency. Configurable alerts for employees and managers help manage teams in real-time, with cloud-based access anywhere, anytime. For more information, visit http://www.actualid.com.
About ADP
Employers around the world rely on ADP® (NASDAQ: ADP) for cloud-based solutions and services to help manage their most important asset - their people. From human resources and payroll to talent management to benefits administration, ADP brings unmatched depth and expertise in helping clients build a better workforce. A pioneer in Human Capital Management (HCM) and business process outsourcing, ADP serves more than 625,000 clients in more than 100 countries. ADP.com.
The ADP logo, ADP and ADP Research Institute are registered trademarks of ADP, LLC. All other marks are the property of their respective owners. Copyright © 2015 ADP, LLC.
# # #
ADP Media Contact
Dick Wolfe
ADP
(973) 974-7034
dick.wolfe(at)adp.com
Actual iD Media Contact
Linda Wu
Actual iD
1-855-6ACTUAL | 1-855-622-8825
info(at)actualid.com