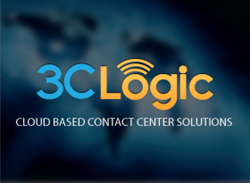 Enterprises are looking to call centers to help scale their coverage while providing the proper integrated social tools marketing teams generally lack.
Rockville, MD (PRWEB) June 18, 2015
3CLogic, a leading provider of cloud call center software today announced a new partnership with HelpSocial, a leader in social customer service. The recent partnership will address the growing consumer demand for support within social media channels (Twitter, Facebook, etc.) while facilitating the ability to provide social customer service as an integrated part of an organization's contact center infrastructure.
"Consumer demand for support in social channels is clear but has rapidly outgrown the marketing departments typically tasked with responding," explains Matt Wilbanks, CEO and Co-Founder at HelpSocial. "Enterprises are looking to call centers to help scale their coverage while providing the proper integrated social tools marketing teams generally lack."
Together, 3CLogic and HelpSocial will deliver significant benefits to enterprises in search of a complete multichannel contact center solution while enhancing the customer experience. Among the highlights:

A single integrated contact center and social customer service solution
Intelligent routing of social mentions
Automatic agent access to customer relevant data to facilitate handling and responses
Social customer service training and guidance
Enhanced customer experience and retention
The partnership announcement comes following 3CLogic's recent software release and update in which it unveiled its new powerful inbound routing solution for all asynchronous communications such as email, SMS, and Social Media.
"Consumers are increasingly diversifying their use of different channels to communicate with businesses," explains Raj Sharma, COO at 3CLogic. "And yet consumer expectations remain the same regardless of the chosen channel which highlights the importance of being able to intelligently route, evaluate, and respond to each inquiry across all channels in a uniform and consistent manner. We are very excited about the synergies 3CLogic's leading contact center solution and HelpSocial's social customer services will provide to both our mutual and future customers."
About 3CLogic
3CLogic is a leading provider of multichannel cloud contact center software designed for today's enterprise businesses. A true cloud solution, hosted on AWS, it offers seamless integration with other cloud-based solutions, including CRM, Ticketing, WFO and WFM, to allow any organization to migrate from premise-based or cloud platforms without disrupting existing business workflows. Built on a unique distributed infrastructure, it avoids the traditional pitfalls of current solutions while providing market-leading security, scalability, system flexibility, and reliability. Built to enhance sales performance, customer experience, and overall rep productivity, 3CLogic provides a powerful communication framework to help complement any business initiatives. For more information, please visit http://www.3clogic.com or blog.3clogic.com.
About HelpSocial
HelpSocial is the world's first social platform with an open API built for scaling social customer service capabilities across a business. HelpSocial originated at Rackspace where the technology was built and used in full production for more than 4 years for bringing Fanatical Support to social networks. The co-founders, Matt Wilbanks, CEO, and Robert Collazo, CTO, spun out in 2014 with their lead investment from Dallas Mavericks owner and Shark Tank investor, Mark Cuban and strong support from San Antonio based Geekdom Fund. The competitive differences in HelpSocial go beyond features, functions, UI design and the API. The technology was built because they needed a set of tools that could handle those challenges better than anything else available and serve as a foundation for scaling social out wherever future demands require. Visit http://www.helpsocial.com.