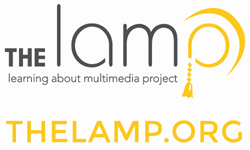 We are also very grateful to The Pinkerton Foundation for their support, and for their vision of how our programs and media literacy skills can benefit young people in high-need communities.
New York, NY (PRWEB) June 19, 2015
The LAMP will bring media literacy and other 21st-century educational opportunities to two new sites in the 2015-2016 academic year, using project-based and Connected Learning principles to explore digital citizenship, news literacy, advertising literacy, media production and entry-level skills needed for jobs in the media and technology sector. Funding for the programming has been committed by The Pinkerton Foundation. The sites are New Settlement Apartments, including the New Settlement Community Campus in the Southwest Bronx, and Arab American Family Services Center at Khalil Gibran International Academy in Brooklyn Heights. This will be the first time both sites offer comprehensive media literacy training. This is also the first time that The LAMP, a New York City-based nonprofit organization, receives funding from The Pinkerton Foundation.
The programs are designed to spark critical thinking about and active engagement with media messages and the technologies used to communicate those messages. Students in middle school and high school as well as young adults up to age 24 will gain these skills by creating their own commercials, multimedia essays, entrepreneurship projects, songs, Public Service Announcements, remixes and more. Students in select programs will also be using MediaBreaker Studios, the educational platform currently in development, which is based on The LAMP's MediaBreaker remix tool.
Although the need for technology literacy has been gaining increased recognition with calls for more STEM and coding classes in schools, the need for teaching critical thinking about messages is of equal importance. At a 2014 presentation to UNESCO about media studies, London School of Economics Professor Sonia Livingstone said, "Coding is a great idea but it's not enough. Decoding today's media - to recognize misleading and exploitative content, to appreciate what is available and to grasp the emerging opportunities - doesn't come automatically or naturally. This is a time to strengthen media education."
"The LAMP is thrilled for this opportunity to partner with New Settlement and AAFSC on year-round programming," said D.C. Vito, Executive Director for The LAMP. "We are also very grateful to The Pinkerton Foundation for their support, and for their vision of how our programs and media literacy skills can benefit young people in high-need communities."