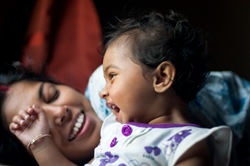 FORT COLLINS, CO (June 19, 2015) (PRWEB) June 25, 2015
They have now chosen five top products and concepts with the most potential to benefit from Amplify's design support and funding. Out of the five, SHISHU Healthy Newborn Kit is one of two ideas that will receive in-depth design support and pilot funding.
The SHISHU Healthy Newborn Kit will contain simple tools recommended by the World Health Organization to ensure the "clean chain" (infection reduction), the "warm chain" (thermal care), and early feeding support. Supplementing distribution of the kit, ayzh will offer mobile phone-based educational messages targeting healthcare workers to promote proper usage.
Through Amplify, people from all corners of the world collaboratively tackle some of the toughest global issues. Read about all five of the challenge winners here.
ayzh has a clear vision to make products for women and their newborns, to lift up impoverished communities with affordable, vital, yet beautiful and simple products, to create a sustainable transactional eco-system by employing women from those same communities to make these products. Join us on our site: http://www.ayzh.com/ Facebook: https://www.facebook.com/AYZHinc?ref=h
###