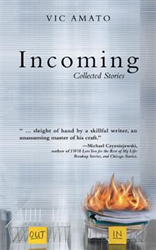 With tales ranging from the extraordinary and the inspiring to the ridiculous, Amato creates a wide variety of characters all trying to cope with the vagaries of modern society
Detroit, MI (PRWEB) June 22, 2015
The literary short story is making a comeback.
Writers such as Alice Munro, Anthony Doerr, and Lorrie Moore have all made waves in recent years with critically acclaimed collections of short stories. Author Vic Amato's new book, "Incoming," is now another link in the chain.
Comprised of sixteen short stories, "Incoming" spans the breadth of human nature. With tales ranging from the extraordinary and the inspiring to the ridiculous, Amato creates a wide variety of characters all trying to cope with the vagaries of modern society.
"Incoming" includes tales of bad break ups and crazy old flames, consideration of a panhandler in the shadow of the World Trade Center, a death row inmate's last mortifying words, a father anguishing over his son failing the same way he did, death by peanut butter, a childhood betrayal, a lunch ripped off, and perhaps an Elvis sighting.
According to the independent Blueink Review, Amato's stories "are largely enjoyable, rendered in clear descriptive prose. . . (he) delivers original tales told by narrators who are generally likable and familiar and facing situations most readers can identify with . . . the stories vary in tone, but are often lighthearted or nostalgic, with a few darker tales thrown in."
For more information, visit http://www.iuniverse.com.
Incoming
By Vic Amato
ISBN: 978-1-4917-6239-4
Available in softcover, e-book
Available on Amazon, Barnes & Noble and iUniverse
About the author
Vic Amato holds a PhD in political science/public administration from Wayne State University, Detroit. He is a former journalist, mental health services administrator, and college instructor, and he served with the Third Infantry Division. He and his wife, Susan, live in Port Huron, Michigan.
For review copies or interview requests, contact:
Drew Tharp
317.602.7137
dtharp(at)bohlsengroup(dot)com