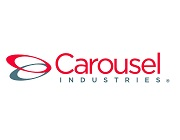 We are thrilled to have Carousel Industries at CIOsynergy New York. Their presence will provide event attendees with an additional layer of industry insights and thought leadership," says Patrick Mason, Director of Communications and Marketing at CIOsyner
Hoffman Estates, Illinois (PRWEB) June 19, 2015
CIOsynergy, a provider of thought leading events, today announced Carousel Industries participation at its upcoming event on June 25, 2015 at The Sheraton New York Times Square Hotel.
Carousel Industries designs, delivers, and supports the technology solutions that become the foundation of our clients' businesses. Our unified communications, virtualization, Voice over IP (VoIP), telemedicine solutions and collaboration and data infrastructure solutions leverage our consultative approach, deep technical expertise, and extensive industry partnerships.
"We are thrilled to have Carousel Industries at CIOhealth New York. As leading provider of Telemedicine solutions, their presence will provide event attendees with an additional layer of industry insights and thought leadership," says Patrick Mason, Director of Communications and Marketing at CIOsynergy.
CIOhealth New York is an exclusive opportunity for leading local CIO and IT executives to network and brainstorm daily hurdles in an unparalleled learning environment while in the presence of Steve Forbes, Chairman and Editor-in-Chief of Forbes Media. Under Mr. Forbes' leadership, the company has launched a variety of new publications and businesses. They include: ForbesLife, the dedicated luxury lifestyle and culture magazine; Forbes Europe: Forbes Asia: and Forbes licensee editions in over 30 countries. The company also publishes a number of investment newsletters.
In 1966 Forbes entered the new media arena with the launch of Forbes.com. Through March 2014, Forbes.com, a leading business website, reached close to 30 million unique visitors, according to comScore worldwide. Other Forbes Web sites include: RealClearPolitics.com: RealClearMarkets.com: RealClearSports.com and RealClearWorld.com. The company's flagship publication, Forbes, is the nation's leading business magazine, with a circulation of more than 900,000. Forbes combined with Forbes Asia: Forbes Europe and the company's licensee editions together reached a worldwide audience of more than 5 million readers.
Mr. Forbes writes editorials for each issue of Forbes under the heading of "Fact and Comment". A widely respected economic prognosticator, he is the only writer to have won the highly prestigious Crystal Owl Award four times. The prize was formerly given by U.S. Steel Corporation to the financial journalist whose economic forecasts for the coming year proved most accurate.
At CIOhealth New York , a panel of leading CIOs, moderated by Scott Shuster, will share and explore how CIOs can be successful in their role. Mr. Shuster has led virtually every Business Week CEO, CFO, and CIO conference held since the founding of the magazine's events group more than 100 of the world's most prominent gathering of large company leaders and senior executives.
Open to Fortune 500s and mid-market enterprise, CIOsynergy events gather senior executives from the office of the CIO, including Directors, VPs, Chief Architects, CTOs and CIOs.
For more information about or to participate in CIOsynergy New York , visit: http://CIOnewyork.com/, or contact Araceli Delgado, Project Coordinator at aracelid(at)ciosynergy(dot)com or 1.847.278.2213 ext. 899.
About CIOsynergy
CIOsynergy provides a platform that brings together the thought leaders of IT through events that incorporate face-to-face meeting opportunities, panel discussions, think tanks, keynotes, and C-suite networking programs.
Previous events have attracted C-suite leaders from companies such as Wal-Mart, Salesforce, Home Depot, Bank of America, Forbes Media, Wells Fargo, Shell, Allstate, State Farm, Career Education Corp, Pepsi, Sara Lee, Kraft, BP, Loyola University, Kaiser Permanente, Mayo Clinic, and Walgreens.
The company operations nationwide and has previously partnered with sponsors such as IBM, 3com, VMware, Unisys, Hitachi, Oracle, SunGard, Dell, Google, Amazon, and HTC among 100's more.
About Carousel Industries
Carousel Industries designs, delivers and supports the technology solutions that become the foundation of our clients' businesses. This includes unified communications, virtualization, Voice over IP (VoIP), visual communications, security initiatives and collaboration and data infrastructure solutions. These solutions integrate the best applications from the best technology providers and are implemented with agility and speed to create a competitive advantage for our clients.