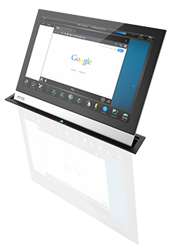 When I saw our new Retractable Modero X glide into place for the first time, I knew right away – this is definitely a new direction for Modero X," said Rashid Skaf, President, AMX.
Orlando, FL (PRWEB) June 18, 2015
At InfoComm 2015, AMX®, a HARMAN professional brand, previewed the release of a control panel like no other, the AMX 10" Modero® X Series G5 Retractable. Majestically rising out of the table, it stands tall, ready to command the room as only a Modero X G5 can. Featuring unique and unmatched AMX functionality, this head turner saves space while freeing meetings of distractions.
AMX Touch Panels have consistently led the industry in award-winning design and innovative features. The Modero X Series G5 Retractable is the latest example in this long line of ingenuity. Its precision-glide motorized mount raises and retracts with the press of a button. It's just as easily activated via NetLinx® control - triggered directly, through macros or via room occupancy. The hideaway design saves space and ensures that high-end rooms retain their styling by remaining flush with the table when closed. To ensure a superior customer experience, the panel is both sleek and strong, featuring a unique hinge design to ensure it remains sturdily in place, whenever users press on it.
Designed specifically for dedicated room control, AMX Modero X Series G5 Touch Panels feature fast and smooth animations and transitions, along with a quad-core processor that provides more than enough processing power to run the most demanding applications today and in the future. It also includes several industry firsts including a beautiful, panoramic capacitive multi-touch screen, Near Field Communication™ (NFC) Technology, Camera, Microphone and Bluetooth connectivity. A built-in web browser and document viewers are also included as standard Modero X G5 equipment. The distinctive, low-profile Modero X design is engineered to sit perfectly on a table without obstructing views, and comes with a variety of mounting options for added security and convenience.
"When I saw our new Retractable Modero X glide into place for the first time, I knew right away – this is definitely a new direction for Modero X," said Rashid Skaf, President, AMX. "I'm extremely proud of our panels' timeless design but it's nice to be able to provide our customers with options of retracting their panel out of sight or keeping it in view – either way, they're in control."
Additional Details
For more details, AMX invites you to visit HARMAN Professional Booth #2218 at InfoComm 2015 or these online locations:

About AMX by HARMAN
Founded in 1982 and acquired by HARMAN in 2014, AMX® is dedicated to integrating AV solutions for an IT World. AMX solves the complexity of managing technology with reliable, consistent and scalable systems comprising control and automation, system-wide switching and AV signal distribution, digital signage and technology management. AMX systems are deployed worldwide in higher education and K-12 learning facilities, conference rooms, homes, classrooms, network operation/command centers, hotels, entertainment venues and broadcast facilities, among others.
About HARMAN
HARMAN designs and engineers connected products and solutions for consumers, automakers, and enterprises worldwide, including audio, visual and infotainment systems; enterprise automation solutions; and software services. With leading brands including AKG®, Harman Kardon®, Infinity®, JBL®, Lexicon® , Mark Levinson ® and Revel®, HARMAN is admired by audiophiles, musicians and the entertainment venues where they perform around the world. HARMAN also is a technology and integration services leader for the Automotive, Mobile, Telecommunications and Enterprise markets. More than 25 million automobiles on the road today are equipped with HARMAN audio and infotainment systems. The Company's software solutions power billions of mobile devices and systems that are connected, integrated, personalized, adaptive and secure across all platforms, from the work and home to car and mobile. HARMAN has a workforce of approximately 25,000 people across the Americas, Europe, and Asia and reported sales of $5.9 billion during the last 12 months ended March 31, 2015.