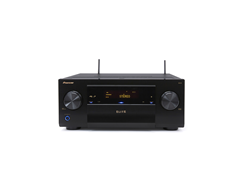 Long Beach. CA (PRWEB) June 21, 2015
Pioneer Home Entertainment U.S.A. today introduced a its new SC-91 Elite SC receiver, featuring support for Dolby Atmos® and MCACC Pro, and utilizes a Class D3 amplifier for simultaneous high-power output on all channels. The integration of these technologies creates a highly immersive playback environment from Dolby Atmos as well as your existing content.
When handling video, the SC-91 is a star and supports 4K/60p/4:4:4 video signal transmission with HDCP 2.2 copyright protection technology so that the receiver is compatible with the multitude of upcoming 4K UltraHD sources that are heading consumers way. The SC-91 has a host of wireless capabilities, while dedicated smartphone apps Start-up Navi and iControlAV5 let anyone easily and intuitively configure and control their home entertainment system.
Pioneer's SC-91 Elite SC Receiver is now available for a MSRP of $1,100.
Powerful Amps with the Efficiency of Class D3
The SC-91 reproduces music and soundtracks with uncompromising authority and realism, exploiting the full dynamics from any media source. It delivers seven channels of cutting-edge Elite Class D3 amplification for a total of 660W multi-channel simultaneous drive. Rated at 130 Watts per channel (8 ohms, 1kHz, THD 0.08%, 2ch Driven FTC), this is significantly more simultaneous multi-channel power than the Class AB competition.
Pro Sound with MCACC Pro
MCACC Pro takes Multi-Channel Acoustic Calibration (MCACC) a step further. In addition to automatically compensating for speaker size, level and distance to the listening position as standard MCACC does, MCACC Pro analyzes and corrects the phase and group delay characteristics that are caused by the filtering systems in the speakers. This adjustment is also performed between different channels, in order to provide a smooth flow.
Additional features include independent correction for dual subwoofers, and speaker position adjustments in 1-millimeter increments. For all channels, MCACC Pro corrects phase differences in the original audio, as well as the sounds emitted from the speakers.
Performing fully-automatic corrections to source-derived lags in the bass (LFE elements) on a real-time basis, Auto Phase Control Plus helps reproduce the natural linkage of sound between channels with rich and sharp low-pitched sounds and clear mid- and high-range sounds.
Enhance the Experience
The SC-91 incorporates Dolby Atmos home technology -- the exciting advancement in sound that makes music and movies come alive like never before. With Dolby Atmos enabled speakers, sound takes on a whole added dimension. Meanwhile, the Dolby Surround® up-mixer brings an enhanced sense of immersion to your existing content. CDs, DVDs, and Blu-ray discs sound more alive and real than you ever imagined.
High Quality Playback
The SC-91 is equipped with the SABRE ES9006S Premier Audio DAC, a digital-audio converter manufactured by ESS Technology, Inc. exclusively for audio equipment. A new power supply transformer reduces magnetic flux noises while a new insulator suppresses external vibrations. With special tone-tuning, it delivers natural and smooth sound in high quality.
Revealing Resolution
The SC-91 supports 4K/60p/4:4:4 video signal transmission with HDCP 2.2 technology to ensure your receiver's compatibility with the many upcoming 4K UltraHD sources and televisions. So when users decide to upgrade their visual experience, their audio experience will already be there. Thanks to a Super Resolution feature, the SC-91 plays back HD content with upgraded image quality equivalent to that of a 4K video signal.
Audiophile Files
The SC-91 delivers the high-resolution music playback that audiophiles demand, with support for 192 kHz 24-bit 2ch WAV, FLAC, AIFF, ALAC, and 96 kHz 24-bit Multi-channel WAV, FLAC. Compressed formats, such as MP3, WMA, and AAC are also supported. Stream these files from your home network, tablet, or even the front USB port. Serious listeners will appreciate 2.8 MHz DSD direct playback via network or SACD disc playback via HDMI.
Go Wireless
All 2015 Elite models offer built-in Wi-Fi and Bluetooth® technology and the SC-91 is also equipped with dual antennas that provide Dual Band Wi-Fi (2.4 GHz and 5 GHz) for a much greater network range and connection stability.
The SC-91 supports Wireless Direct and even in an environment without wireless LAN, it can be operated to perform wireless playback using the free iControlAV5 control app.
Nice Navigation
Network and initial settings can be easily configured using any iPhone, iPod touch or iPad via the newly developed Start-up Navi app. Users can install the dedicated control app iControlAV5 on the setup screen for intuitive and easy operation of the SC-91. They are also compatible with Android devices.
Custom-Install Dream
The SC-91 offers both RS-232c interface and full IP control providing compatibility with the most popular home automation systems. For custom-installed home theater solutions, it offers multi-zone capability audio video support: Home theater in one room; HDZONE (HDMI) to a second room and listen to analog music in a third room. However owners choose to use it, this receiver gives them the features and flexibility that comes with owning an Elite AV receiver. And because Pioneer is dedicated to custom installation, our relationships with custom-control providers like AMX®, Control4®, Crestron® and other leading brands makes the SC-91 the perfect centerpiece for whole-house systems.
Worldwide Music
With Internet Radio, the SC-91 gives users a world of entertainment options. Not only can they enjoy thousands of Internet radio stations around the world with vTuner®, they can also access their favorite music from Pandora® and Spotify®, complete with on-screen album art and music information. Spotify Connect is a premium subscription feature that lets users play and control Spotify with their smart devices.
Ready to Connect
Using AirPlay, the SC-91 lets owbers enjoy effortless streaming music from iPhone, iPad or iPod touch. In addition, the SC-91 is Windows® 8.1 Certified, and also supports DLNA® 1.5 media streaming and HTC Connect®.
For more information about Pioneer Home Entertainment's entire line, please visit http://www.pioneerelectronics.com.