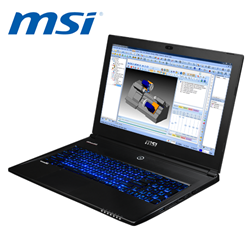 We especially liked the fact that we're able to offer our clients multiple high quality laptop options at various performance levels to fit any budget.
(PRWEB) June 20, 2015
BobCAD-CAM, Inc., a world leader in powerful and affordable CAD/CAM software, has announced a new partnership with MSI, an industry-leading innovator of motherboards, graphics cards, notebooks, and all-in-one PCs, to provide manufacturers and job shops with a quality laptop solution to operate their high performance CAD/CAM software.
After months of rigorous testing, BobCAD-CAM selected MSI as a preferred Notebook PC supplier. The selection was based on MSI's ability to deliver high performance hardware that could manage the processing demands of CAD/CAM software, including complex 3D model design, realistic CAM simulations, and large volumes of toolpath calculations.
MSI has a solid reputation of developing quality products for software that demands a lot from computer hardware. Their products are widely used throughout the PC gaming, digital arts, and CNC machining industries. In fact, many of the MSI Mobile Workstations have been pre-certified by leading 3D software giants like SolidWorks and Adobe to ensure compatibility, reliability and stability for professional applications.
BobCAD-CAM's advanced CAD-CAM software generates machine toolpaths to manufacture 2D & 3D parts on 2-5 axis CNC machines. In order to generate the machine toolpaths, the software must process large amounts of data and calculations to create the machine g-code that is readable at the CNC machine controller. The time it takes to process all of this data is largely dependent on the hardware capabilities of the computer workstation.
BobCAD-CAM software is designed to utilize the full processing capabilities of the operating computer. The NVIDIA® graphics cards and Intel® processors used in MSI laptops offer superior hardware power that is designed to handle CAD/CAM software with ease.
Sean Owen, COO of BobCAD-CAM, had this to say about the new partnership, "We've been testing various workstations for the last year or so. Our goal has been to find a powerful PC that works well with our software within an affordable price range. MSI really hit the mark on all accounts. We especially liked the fact that we're able to offer our clients multiple high quality laptop options at various performance levels to fit any budget. I firmly believe that our clients will be impressed with how well CAD/CAM software runs on MSI laptops."
As part of BobCAD-CAM's partnership, they will offer a total of three different MSI laptop models.
WS60 – The WS60 is a high-end/high performance laptop specifically designed for CAD/CAM software. The premium pricing is a reflection of the processing and graphics power of this professional quality workstation.
PX Series – The PX Series laptop represents more of a middle of the road option. It packs serious performance power with the newest model Intel® i7 Processor while maintaining an affordable price profile.
PE Series – PE Series laptop is an affordable option for clients on a budget. This MSI laptop is a quality workstation that tested well with the BobCAD-CAM software and is at the most affordable price point.
BobCAD-CAM will begin offering MSI laptops alongside their CAD/CAM software beginning June 18, 2015.
About BobCAD-CAM
Clearwater, FL | http://www.BobCAD.com
For over 30 years, BobCAD-CAM has been dedicated to designing powerful, user-friendly and affordable CAD/CAM software. BobCAD-CAM products are used in CNC machine shops and schools all over the world - helping to automate the machine process for mill, lathe, router, laser, plasma, waterjet, and wire EDM. BobCAD-CAM provides easy to use and efficient solutions for g-code editing, machine simulations, art – raster to vector & embossing, nesting, and mill, lathe, & EDM programming.