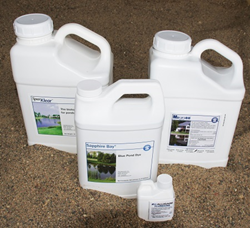 The liquid products make the application process easy and fun when used with the TORMADA™.
Rogers, MN (PRWEB) June 22, 2015
Lake Restoration, a pond and lake weed control company located in Rogers, MN, today announced that it has launched PONDRestore® Liquid Kits for enhancing the beauty of ponds. The kits come in a variety of sizes from 1,000 square feet to 10 acres. The kits start at a price of $73 for the PONDRestore® Liquid 1000. The PONDRestore® Liquid Kits are intended for use with the TORMADA™ applicator boat.
"We launched the PONDRestore® Liquid Kits to be used along with the new TORMADA™ product application boat," says Mary Jo Furman, Product Sales Supervisor of Lake Restoration. "The liquid products make the application process easy and fun when used with the TORMADA™."
The PONDRestore® Liquid Kits include several products that benefit the pond in a variety of ways. In the smaller kits (5,000 square feet and below), Diquat herbicide controls weeds and Mizzen® algaecide controls algae. Diquat acts quickly against unwanted weeds. In the larger kits (10,000 square feet and above), Fluridone herbicide and Mizzen® algaecide control weeds and algae. Fluridone spreads throughout the whole pond for longer control. In all kits, SparKlear® restores the pond's health by reducing nutrients that enable weeds to grow and Sapphire Bay® pond dye adds a natural looking blue color.
The PONDRestore® Liquid Kit products are used in the unmanned, lightweight TORMADA™ pond sprayer. The TORMADA™ is remote controlled from the shore and makes applying the products fun. Applying products with the TORMADA™ decreases exposure to the chemicals. The boat has a range of 1,000 feet, so places that were hard to reach with a sprayer now become easily treatable.
Lake Restoration's PONDRestore® Liquid Kits treat ponds with ease when paired with the remote controlled TORMADA™. For more information on PONDRestore® Kits or other products, visit their website at LakeRestoration.com. View videos of the TORMADA™ at TORMADA.com.
About Lake Restoration
Lake Restoration, located in Rogers, MN, has been restoring the beauty of lakes and ponds since 1977. Every year thousands of satisfied customers use Lake Restoration products to keep their ponds, lakes, and other water features in pristine condition. Lake Restoration offers a complete line of exclusive, simple, do-it-yourself solutions to treat a variety of pond weed maladies. To learn more about controlling pond and lake weeds and the products and services to accomplish this, visit LakeRestoration.com.