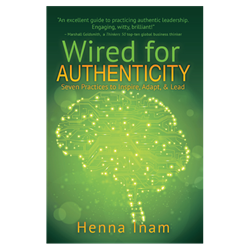 "Wired for Authenticity" retools us with practical examples and how-to knowledge in self-awareness, open-mindedness, inquisitiveness, engagement, and empowerment.
Atlanta, GA (PRWEB) June 22, 2015
Today, Henna Inam announced the release of her first book "Wired for Authenticity: Seven Practices to Inspire, Adapt, & Lead." In this book, Inam shares proven strategies for experiencing greater success and fulfillment in leadership, the workplace, and life in today's stressful, fast-paced, 24/7, always-on work environment.
Inam's book offers practical tools that will teach the reader how to practice a new model of authenticity:
-To be more agile and trusted and less overwhelmed
-Engage and influence clients, peers, and bosses more powerfully
-Lead team members with more inspiration and ease
Her engaging and witty style, stories of real client dilemmas, and useful tools offer a fun way to learn through the practice of authenticity.
Leadership today is more challenging than ever. Trends including the rapid pace of change, constant restructuring, and a 24/7, always-on work environment are creating overwhelmed employees and eroding trust in workplaces. Gallup has conducted employee engagement surveys for over thirty years with research involving over 17 million employees in 192 companies in 49 industries and 34 countries. Interestingly, over those three decades, the numbers have remained consistent with only 13 percent of employees engaged, 63 percent not engaged, and 24 percent actively disengaged. [1]
"In today's fast-paced environment we need leaders who are both authentic and trusted as well as agile and adaptive to change. Most people recognize authenticity but don't know how to teach it," says Inam, who has presented training programs for Google, Johnson & Johnson, Pricewaterhouse Coopers, and The Coca-Cola Company. "Authenticity is a moment by moment choice to bring the full expression of your whole self for the greater good. In this book, readers will learn seven authenticity practices to bring that fuller expression of themselves to work in order to be more inspired in their leadership and thus inspire and influence others more powerfully." The book references neuroscience data that suggests that our ability to be more authentic actually serves our well-being (it's good for our health) as well as that of those we lead.
Leadership experts and Fortune 500 senior leaders offer the following advance praise for "Wired for Authenticity":
--Kathleen Ciaramello, President National Food Service and On-Premise, Coca Cola Refreshments says, "Henna Inam re-introduces us to our original nature and offers practices to bring that authentic person to life! When our true selves show up to work, we can better connect with our teams, colleagues, family and friends. Even more powerful, we give those around us permission to do the same. It is contagious!"
--Donald Fan, Senior Director, Global Office of Diversity, Walmart Stores Inc. says, "To thrive as a business in this new era, we must learn to foster a trust-based inclusive culture through authentic leadership, simply because it engages people, incubates innovative breakthrough, and optimizes performance. Authenticity pivots at the center of this culture. Thanks to Henna Inam, 'Wired for Authenticity' retools us with practical examples and how-to knowledge in self-awareness, open-mindedness, inquisitiveness, engagement, and empowerment."
"Wired for Authenticity," published by iUniverse OPEN BOOK Editions – a Berrett-Koehler Partner, contains 14 chapters and the seven proven practices of authenticity including "Stay Curious", "Let Go" and "Choose Be before Do". It is available in hardcover, paperback and e-book versions. For more information on "Wired for Authenticity," (including a free sample chapter, details on Inam, advanced praise, press coverage, and purchasing information), visit wiredforauthenticity.com/
About the Author
Henna Inam is CEO of Transformational Leadership Inc. As an executive coach and speaker, she brings twenty years of global senior leadership experience with Fortune 500 companies. She graduated from the Wharton School with an MBA and participated in executive education programs at the Harvard Business School.
Wired for Authenticity
By Henna Inam
iUniverse
May 2015
Hardcover, $27.95; 238 pages
978-1-49176-573-9
[1] "World-Wide, 13% of Employees Are Engaged at Work," Gallup Report: State of the Global Workplace.