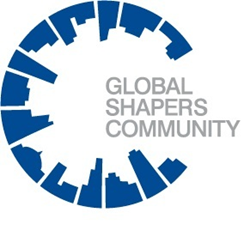 The uncertain world needs talented young people who are committed to making a difference, who can inspire and influence a wide range of stakeholders, and who have the potential to lead and shape the future
Oxford, UK (PRWEB UK) 22 June 2015
Impacting lives through education: Saïd Business School and Global Shapers Community award two new scholarships for the Oxford MBA programme
Saïd Business School, University of Oxford
Tana Jambaldorj (Global Shaper, Ulaanbaatar Hub) from Mongolia and Frank Fredericks (Global Shaper, New York City Hub) from the United States, were chosen from a highly talented and accomplished group of applicants, all of whom were part of the Global Shapers Community to join the Oxford MBA programme at Saïd Business School, University of Oxford.
Tana and Frank will join a rich community that includes a cohort of students drawn from across the world and from all sectors, as well as thought-leaders and experts leading on cutting-edge academic research from across the University of Oxford.
The moment they received the news of the award can be seen in this video here
The Global Shapers Community is a network of Hubs developed and led by young people, between the ages of 20 to 29, who are selected as being exceptional in their potential, their achievements and their drive to make a contribution to their communities. The new scholarships, announced earlier this year by Oxford Saïd and the Global Shapers Community, an initiative of the World Economic Forum, provide an opportunity for those who wish to improve their knowledge of market-oriented practices, to achieve real world impact.
Tana founded the Mongolian Young Scholars Programme in 2011, to identify and prepare outstanding Mongolian high school students for admissions to top universities abroad. Tana currently works in the mining industry. Frank Fredericks is the founder of both World Faith, a global interfaith development organization, and Mean Communications, a digital strategy consultancy. After graduating from NYU, Frank worked in the music industry.
Upon receiving the award, Tana commented: 'This is such a huge honour and I am really looking forward to my time at Oxford, not just as an Oxford student but as a Global Shaper. Coming to Oxford is a good opportunity to gain a lot of ideas in a wide range of fields. It is not just about getting the know-how for building the particular business endeavour that I want to pursue after my MBA, but will also allow me to bring back new ideas to my Global Shapers Hub in Ulaanbaatar, Mongolia as well as the larger Global Shapers community. Global Shapers love to circulate and build ideas into actionable pursuits and the Oxford MBA will be the perfect place to do this.'
Frank said: 'This is just such a huge blessing. It's been an epic journey to this point. I realise that there are many amazing people doing amazing work in the Global Shaper community and as much as I have created a narrative of working hard to where I am, I have also experienced privilege in my journey up to this point. Knowing that there are people who have had less privilege, I will do my best to represent them during this amazing opportunity. I feel very blessed!'
'We are delighted that Global Shapers Tana and Frank have been chosen as Global Shapers Scholars for our Oxford MBA,' said Peter Tufano, Dean of Saïd Business School. 'The uncertain world needs talented young people who are committed to making a difference, who can inspire and influence a wide range of stakeholders, and who have the potential to lead and shape the future. We will follow these inspiring individuals with keen interest on their journey to changing the world for the better.'
'Saïd Business School at Oxford University has a passion for making the world a better place and this is precisely what inspires the Global Shapers Community. Education is a top priority for the Global Shapers Community and Shapers are actively engaged in education-related projects that touch local communities around the world. Tana and Frank are joining a growing family of Global Shapers Scholars who commit time to strengthen their own capacity to have impact by learning alongside talented individuals at some of the world's finest institutions,' said Yemi Babington-Ashaye, Head of the Global Shapers Community.
Oxford's distinctive emphasis on social innovation, responsible leadership, and entrepreneurship, complement the spirit of the Global Shapers. As part of a core business education, they will gain the technical knowledge needed to launch, grow and run innovative organisations under conditions of complexity and uncertainty, and combine this with the personal skills to influence and inspire others. In particular, they will have the opportunity to work in their own or other Global Shaper Hubs, on innovation or growth projects to benefit local communities.
For further information or to speak with Tana or Frank, please contact the press office:
Jonaid Jilani, Press Officer, Saïd Business School
Tel: +44 (0)1865 614678, Mob: +44 (0)7860 259996
Email: jonaid(dot)jilani(at)sbs(dot)ox(dot)ac(dot)uk
Kate Richards, Press Officer, Saïd Business School
Tel: +44 (0)1865 288879, Mob: +44 (0)7711 000521
Email: kate(dot)richards(at)sbs(dot)ox(dot)ac(dot)uk
Notes to editors
About Saïd Business School
Saïd Business School at the University of Oxford blends the best of new and old. We are a vibrant and innovative business school, but yet deeply embedded in an 800 year old world-class university. We create programmes and ideas that have global impact. We educate people for successful business careers, and as a community seek to tackle world-scale problems. We deliver cutting-edge programmes and ground-breaking research that transform individuals, organisations, business practice, and society. We seek to be a world-class business school community, embedded in a world-class University, tackling world-scale problems.
In the Financial Times European Business School ranking (Dec 2014) Saïd is ranked 10th. It is ranked 10th worldwide in the FT's combined ranking of Executive Education programmes (May 2015) and 22nd in the world in the FT ranking of MBA programmes (Jan 2015). The MBA is ranked 7th in BusinessWeek's full time MBA ranking outside the USA (Nov 2014) and is ranked 5th among the top non-US Business Schools by Forbes magazine (Sep 2013). The Executive MBA is ranked 21st worldwide in the FT's ranking of EMBAs (Oct 2014). The Oxford MSc in Financial Economics is ranked 7th in the world in the FT ranking of Masters in Finance programmes (Jun 2014). In the UK university league tables it is ranked first of all UK universities for undergraduate business and management in The Guardian (May 2015) and has ranked first in nine of the last eleven years in The Times (Sept 2014). For more information, see http://www.sbs.ox.ac.uk/
About Global Shapers
· For more information about the Global Shapers Community http://www.globalshapers.org/
· Follow the Global Shapers on Twitter at @globalshapers
· Become a fan of the Global Shapers on Facebook https://www.facebook.com/GlobalShapers