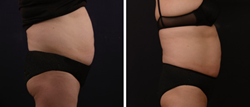 "For patients who want to achieve measurable circumferential reduction of the abdomen area without surgery, selective field BTL Vanquish, is an excellent treatment option."
Stevenage, UK (PRWEB) June 23, 2015
Substantially Lower Skin Surface Temperatures Demonstrate Selective Adipose Tissue Heating and Safety of BTL Vanquish Device
BTL Industries, Ltd., a world leader in fat removal, skin tightening and body contouring, today announced publication of a case report related to its Vanquish RF device in this month's issue of peer-reviewed Journal of Drugs in Dermatology (JDD). The purpose of the study was to reproduce in human subjects a previously published animal study showing that the use of the radiofrequency selective field device reduces abdominal fat through induced apoptosis.
The primary goal of the case report was to demonstrate changes in the apoptotic index (AI) after a single treatment in two healthy female subjects. To quantify the apoptotic index, which assesses the extent of programmed cell death as a percentage of fat cells and all body cells present, each subject underwent abdominal skin and fat biopsies at baseline and after one treatment. As a second outcome to demonstrate selective heating and safety, superficial skin temperature and deep skin tissue temperature were measured before and after Vanquish treatment.
Apoptosis is a natural process of cell death and removal that enables the body to rid itself of selected and targeted cells safely and effectively. It is recognized as the ideal mechanism of action for noninvasive fat reduction and body contouring.
Clinical Study Results
BTL Vanquish treatment was proven to induce an increase in apoptotic index in adipocytes one-hour post treatment. This was accompanied by a peak temperature for internal fat of 45°C at 15 minutes into the treatment which remained stable for the remaining 30-minute treatment time. Thermal imaging of skin surface temperatures remained substantially lower than selectively heated fat temperatures. No adverse events were noted.

Histologic apoptotic index (pre and 1 hour post) showed an average increase of 387% (6.5 to 31.7)
The 1cm depth thermocouple showed an initial temperature of 40°C that reached a maximum of 45°C
Average surface temperature was 31.6°C pre-treatment and 39.2°C post-treatment
"Our study validated that high frequency focused field RF treatment technology safely destroys fat cells through induced apoptosis," said one of the article's authors, Paula Lozanova, MD, International Medical Centre, Sofia, Bulgaria.
David McDaniel, MD, director of the McDaniel Institute of Anti-Aging Research, Virginia Beach, VA and the other author of the paper noted: "For patients who want to achieve measurable circumferential reduction of the abdomen area without surgery, selective field BTL Vanquish, is an excellent treatment option."
About BTL Vanquish
Vanquish, a first-of-its-kind selective electromagnetic field device for non-surgical body shaping treatment, employs a newly developed approach of deep tissue heating. The device delivers electromagnetic energy to precisely and successfully target the problematic midsection or belly area of the body. BTL Vanquish provides long-lasting results with pain-free, short sessions to safely treat large areas without downtime.
About BTL Industries
Founded in 1993, BTL Industries is a privately owned developer and manufacturer of medical and aesthetic equipment. BTL currently has over 900 employees and direct offices in more than 51 countries.
BTL Aesthetics, a division of BTL, has revolutionized the way to non-invasively remove adipose tissue; it currently ranks 2nd among the non-invasive body shaping and tightening manufacturers globally. BTL Aesthetics' brands include BTL Exilis, BTL Vanquish, BTL Protégé and BTL Exilite.
For more information about the Company's Aesthetic division, please visit btlaesthetics.com.
__title__ ]