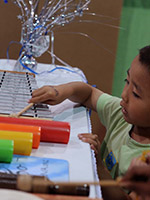 Richmond, VA (PRWEB) June 22, 2015
Over 50 local nonprofits will assemble at the Science Museum of Virginia for the 5th Annual Arts & Culture Xpo presented by CultureWorks. Spotlighting the missions of diverse arts and cultural organizations, this free family event will feature the arts, history, science and hands-on activities on Saturday, June 27 from 10 am to 4 pm.
"The Science Museum is delighted to once again host the Arts & Culture Xpo and help raise awareness of the amazing talent here in Greater Richmond," says Richard Conti, Chief Wonder Officer, Science Museum of Virginia. "The strength of these organizations is vital to a healthy community and we hope thousands of residents will again come out to support these organizations and have a great time along the way!"
The Arts & Culture Xpo will showcase theatrical, musical and visual performances alongside art displays, science demonstrations and more. Guests can spend time interacting with their favorite organizations and discover new ones along the way! An Xplosion of diverse nonprofits will share their passion with the community and compete for the People's Choice Award – a $1,000 prize will be awarded to the day's top three nonprofit organizations as voted by Xpo guests.
In addition to a plethora of activities and performances, Xpo guests will have exclusive opportunity to purchase discounted memberships and tickets to their favorite events and programs. With new products, events and information on display, the Arts & Culture Xpo is the quintessential event to learn more and get involved with local nonprofits!
The Arts & Culture Xpo is a free event held at the Science Museum of Virginia. Museum exhibit admission will be free on Saturday, June 27 only. Visit http://www.smv.org or call 804.864.1400 for details.