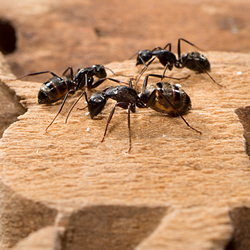 New Berlin, WI (PRWEB) June 24, 2015
When it comes to summertime pests, the bite or sting of mosquitoes, wasps, hornets, and bed bugs strike fear into most – but the true pest of summer is the carpenter ant. It's a little-known fact, but Carpenter ants are the number one nuisance pest nationwide - and Batzner is out to set the record straight. Batzner's 23rd Annual National Carpenter Ant Awareness Week is June 21-27.
Carpenter Ant Awareness week was established by Batzner Pest Control as a way to educate the public about this common pest at a time when they are most active. To recognize Carpenter Ant Awareness Week, Batzner Pest Control is giving away five free pest inspections and services on its Facebook page.
"While carpenter ants are a nuisance, the amount of property damage they can cause is substantial," said Jerry Batzner, President and CEO of Batzner Pest Control. "It's important that the public recognizes the threat carpenter ants pose to their home or business."
Carpenter ants excavate wood in order to build their nests, which can compromise a home's structural soundness. The only sure way to erase a carpenter ant infestation is by completely eliminating their nests.
Carpenter ants can be difficult to control once they have entered a home. The following preventative measures can help avoid an infestation:

Eliminate sources of moisture and standing water
If you store firewood at your home, keep it as far as possible from your home.
Identify and eliminate any water damaged or damp wood to avoid attracting carpenter ants.
To learn more about carpenter ants and how Batzner handles an infestation, call 262-797-4160.