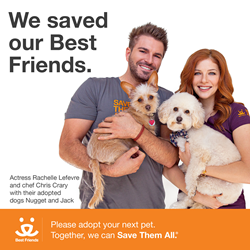 We cannot imagine a greater bond than one built on mutual gratitude. We gave our dogs a forever home and in return they have given us a friendship we will cherish forever
LOS ANGELES (PRWEB) June 23, 2015
She stars in the summer blockbuster series based on a Stephen King novel; he is one of Hollywood's hottest young culinary stars. Together Rachelle Lefevre and Chris Crary are bound by their love for each other and their adopted rescued dogs. Now they want the rest of the country to feel the love that comes from saving a life.
Lefevre stars in "Under the Dome" which returns to CBS on June 25. She is in steady demand for a wide range of starring movie roles including recent films "Reclaim," "White House Down," and "Homefront." Lefevre became an internationally known actress when she appeared in the first two installments of "The Twilight Saga" (Twilight and New Moon), winning her a Teen Choice Award for Best Villain in 2010.
Chef Crary was already rapidly establishing himself as a culinary star when he gained national exposure for his seasonal California cuisine by joining the cast of Bravo's "Top Chef: Texas" in 2011 and was named Season 9's "Fan Favorite." Crary's current culinary endeavor is serving as Executive Chef of sbe's Hyde Sunset Kitchen + Cocktails where he shares his specialty of light California fare with Italian, Asian, and Spanish influences to create a whimsical and memorable dining experience.
In their home life Lefevre and Crary share a passion for helping animals. In a joint statement they said:
"No single decision has impacted our lives as positively as the choice to adopt our dogs from a shelter. Rescuing an animal is one of the most rewarding things you can ever do, and we are repaid daily in unconditional love. We cannot imagine a greater bond than one built on mutual gratitude. We gave our dogs a forever home and in return they have given us a friendship we will cherish forever."
Lefevre and Crary join Danny Trejo, Carrie Ann Inaba, Denise Richards, Nils Lofgren, Josef Newgarden, Amanda Seyfried, Cecily Strong, Maggie Q, Elisabeth Rohm, Courtney Thorne-Smith, Lisa Edelstein, Tricia Helfer, Dann Florek, Emmy Rossum and other luminaries participating in Best Friends Animal Society's photo campaign featuring celebrities posed with their personal rescued dogs and/or cats in support of the Save Them All  call to action.
According to national statistics, each day more than 9,000 dogs and cats die in the nation's shelters. Best Friends has brought increased awareness to how people can get involved in the solution by adopting, and spaying/neutering their pets, donating, volunteering and sharing this message with their friends.
About Best Friends Animal Society®
Best Friends Animal Society is the only national animal welfare organization dedicated exclusively to ending the killing of dogs and cats in America's shelters. A leader in the no-kill movement, Best Friends runs the nation's largest no-kill sanctuary for companion animals, as well as lifesaving programs in partnership with rescue groups and shelters across the country. Since its founding in 1984, Best Friends has helped reduce the number of animals killed in American shelters from 17 million per year to about 4 million. By continuing to build effective initiatives that reduce the number of animals entering shelters and increase the number who find homes, Best Friends and its nationwide network of members and partners are working to Save Them All®.
To like Best Friends Animal Society on Facebook go to: http://www.facebook.com/bestfriendsanimalsociety
Follow Best Friends on Twitter: http://twitter.com/bestfriends
###