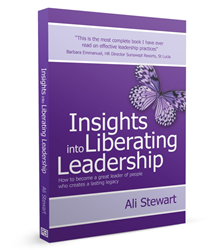 London, UK (PRWEB UK) 22 June 2015
'Insights into Liberating Leadership' provides an easy to follow eight point plan that gives a clear structure for managing teams. With research suggesting that people leave companies because of their line manager, with managers often focusing more on the task than on the people leading to rising levels of stress, there is a growing recognition of the need for practical ways to facilitate great teams.
Following 20 years of research and testing with leaders across a range of market sectors, Ali Stewart believes that the critical skills needed for leading effective teams are rarely taught, with most managers accepting that leaders are born not made.
"My book gives line managers, business owners and entrepreneurs an easy to follow methodology for creating high performance, freeing them up to focus on what really matters in their businesses. So many managers get ground down with people issues and don't know the action needed to bring talent on. With leaders often setting out on their own or rising inside an organisation because of their business flair and technical specialism, they find the job of leading people much more difficult."
In the book, Ali presents the fundamental mindset, key skills, and processes shared by high performing leaders. Having founded a management consultancy with Dr Derek Biddle in 1992, the research has been tested over time with Vodafone, Foreign & Commonwealth Office, General Motors, Friends Provident, Severn Trent Water, Sunseeker, Sealine and many other businesses both in the UK and globally. It is also licenced and taught to business coaches and consultants for use with their clients.
"Insights into Liberating Leadership is packed with actionable steps, invaluable guidance and genuine encouragement for leaders", said leadership consultant Steve Moss.
Insights into Liberating Leadership is available on Amazon priced £16.99 (hardcover), £12.99 (paperback), £5.99 (Kindle)

Editor notes
Ali Stewart is the founder of Ali Stewart & Co Ltd, a leadership coaching practice and consultancy.
She has been teaching the award-winning 'Insights into Liberating Leadership' system to leaders in the UK and throughout the world for over 10 years. Ali is Regional Mentor for UK Insights Discovery Practitioners, NLP Master Practitioner, and pioneer of the Liberating Leadership Accreditation Programme for trainers. She lives near Salisbury with her husband, Neil, and they have 3 children.
Insights into Liberating Leadership is published by Rethink Press.
To receive a review copy of the book or to speak with Ali Stewart, please contact Lucy Francis on 07775 912268 or e-mail lucy(at)alistewartandco(dot)com