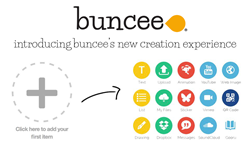 Teachers throughout the world need a tool that speaks to today's students, and this new creation canvas will make student engagement even more attainable than before - Marie Arturi, Buncee LLC Founder & CEO
Calverton, NY (PRWEB) June 25, 2015
Buncee® LLC, creators of buncee, a web-based creation and presentation tool, announced the beta release of its newly updated creation canvas on June 23rd, 2015. This update enhances the overall buncee creation and learning experience.
"While we're always updating and improving the user experience, this new creation canvas is especially exciting and one of our most impactful innovations to date. After listening to the feedback from our growing and dedicated buncee community in 72 countries, we have increased the creation options, improved the user experience, and created a more intuitive sharing functionality," said Buncee LLC Founder and CEO Marie Arturi. She added, "Teachers throughout the world need a tool that speaks to today's students, and this new creation canvas makes student engagement even more attainable than before."
Stacey Roshan, US Technology Coordinator, math teacher, and flipped classroom educator writes, "The new design and functionality makes buncee an even more effective creation and teaching tool and more accessible to all ages. I can't wait to utilize the new features for flipped learning, in-class projects, and to give students the power to add voice to their presentations."
The New Creation Canvas includes:
Improved Media Search:
The improved media search makes finding content to add to buncees much simpler. Quickly find web content or an asset from the buncee library of graphics to place them in the creation canvas workspace.
A User Friendly Layering and Slide Creation System:
The updates to item layering and slide organizing make creating digital stories and presentations even easier.
More Audio Recording Options:
Now, not only can users add voice recording to buncees, they can attach sounds to almost any media, increasing the ways in which the audio feature can be utilized in classrooms.
Intuitive Sharing Functionality:
With a user friendly share function embedded in the new creation canvas, sharing lessons, stories, greetings, and every imaginable buncee is effortless.
An Updated and Sleek Design:
The fresh design feels spacious and visually more appealing; the wider, open workspace makes focusing on the buncee creation process even easier.
Buncee will be presenting this new beta creation experience at the ISTE conference in Philadelphia, PA from June 29, 2015 through July 1, demonstrating how teaching with buncee in K-12 blended learning classrooms is more productive and fun than ever before. With this new creation canvas, Buncee LLC improves the creation and teaching experience for its growing worldwide user base, in classrooms and in homes.
About buncee:
Buncee® provides an easy to use platform for students and teachers alike. The intuitive creation canvas, media tools, and vast library of graphics allow for students to strengthen their creativity and present their ideas, all while improving digital literacy. The classroom dashboard provides teachers with the opportunity to easily flip their classrooms and share lessons and assignments for students to view and submit at home. Additionally, with the student grouping functionality of the classroom dashboard, differentiated learning is made simple. For more information, visit: http://www.buncee.com or http://www.edu.buncee.com.