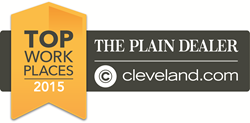 US is more than a job; it's a community. It's a great place to work with many great benefits. I love the people that I work with, especially the ones in my department."
Hunting Valley, Ohio (PRWEB) June 25, 2015
For the third consecutive year, University School has been named one of the Top Workplaces in Northeast Ohio by The Plain Dealer. This year, the school ranked #4 in the midsize employer category. The newspaper recently published the complete list in a special section.
For the third time, US also achieved the highest ranking among several of its peer schools in the Cleveland area.
"Being selected as a Top Workplace is based solely on employee feedback so we are particularly gratified to have been chosen once again by our own faculty and staff as one of the best places to work in Northeast Ohio," said Steve Murray, headmaster.
On the survey, one teacher commented, "I have the freedom to be creative everyday. It is fun to share my passion about my subject area with the students."
Another said, "My coworkers are so supportive, interesting and fun. I believe I am making a difference at the school and growing in my career."
One staff member noted, "US is more than a job; it's a community. It's a great place to work with many great benefits. I love the people that I work with, especially the ones in my department."
Workplace Dynamics, a leading research firm, conducted the survey, which included 22 questions measuring factors such as organizational values, leadership, pay and benefits, appreciation and work/life balance. Organizations were categorized as large workplaces (500 or more employees), midsize companies (150-499 employees), and small companies (35-149 employees). They were then ranked according to how they scored on the employee feedback survey.
About University School:
Founded in 1890, University School is an independent day school, educating boys in kindergarten through grade 12. The school's mission is to inspire boys of promise to become young men of character who lead and serve. Our dedicated faculty, rigorous curriculum, and experiential programs foster intellectual, physical, creative, and moral excellence. University School is a diverse and inclusive community where each boy is known and loved.
University School maintains two campuses: the Shaker Heights Campus has 460 students in kindergarten through grade 8; the Hunting Valley Campus is home to 420 students in grades 9-12.