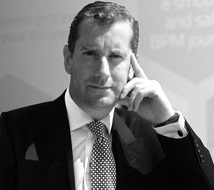 Price volatility, soaring costs and fast changing regulations are among some of the major challenges re-shaping the oil and gas sector
London (PRWEB UK) 24 June 2015
Will Edward, newly appointed Sales VP for Bizagi, is geared up to chair an insightful session at this year's OPEX in Oil & Gas event.
The conference, which takes place 29-30 June at the Radisson Edwardian Heathrow, is recognized as the leading summit for process governance & operations experts in the Oil & Gas industry.
Speaking on Day 1, Edward will chair a Business Transformation track featuring speakers & panellists from leading industry providers including Siemens Energy, GDF SUEZ, YPF S.A. and Universal Pegasus.
His own session at 14:45 will explain how the Bizagi Business Process Management platform can enable organizations to cut out inefficiency, manage risk and build a culture of operational excellence.
Drawing on case studies from the organization, delegates will gain a first-hand insight into how BPM can overcome typical challenges within the industry, including helping a leading oil & gas customer implement a major well optimization process in just 16 weeks.
Initiating business transformation in one of the most complex economic and geopolitical industries can seem a tough call. But Bizagi – who has 500+ satisfied customers to prove it – believes that this doesn't have to be a huge and onerous undertaking.
"Price volatility, soaring costs and fast changing regulations are among some of the major challenges re-shaping the oil and gas sector – driving a 'transform or lose pace' approach to today's business management," said Edward.
"Yet Business Transformation come in many shapes. While some organisations see it as all-out turnaround effort, others believe that transformation is a continuous process of aligning a business model to support strategy. Others still embark on tactical improvements limited to specific functions or processes and then scale up fast. The key is that action has to be taken and that's what Bizagi customers did."
Join our keynote presentation to learn how to:

Identify and deliver the high impact first processes
Engage and collaborate with stakeholders across the business
Scale fast through a series of carefully chosen tactical projects
Create a Center of Excellence and embed continuous improvement
Further links
Book your place at this year's OPEX Oil & Gas event >>
Read more about Will Edward's session >>
Bizagi's SPARK approach to Business Transformation >>
Download the conference agenda >>
About Bizagi
Bizagi (which stands for business agility) is a privately owned company run by software entrepreneurs who are experts in Business Process Management (BPM). Today, 500 global customers have selected Bizagi to model and automate their business processes which results in improved operational efficiencies, shorter time to market and business agility.
Our customers gain significant competitive advantage through Bizagi's freemium model, which allows enterprises to try and test complete processes without financial commitment. Underpinned by agile methodology, customers can expect their first process to be delivered in 7 weeks: a risk-free approach that explains Bizagi's 100% project success rate.
With global headquarters in the UK, offices in Europe, USA and Latin America, Bizagi is supported by a strong implementation partner network worldwide. For more information, please visit http://www.bizagi.com.