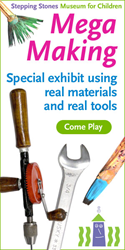 Making at its core is the act of creating something.
Norwalk, CT (PRWEB) June 23, 2015
The Mega Making exhibit at Stepping Stones Museum for Children opened June 13 and is running through Labor Day.
Using real materials and tools, young makers can explore art, textiles, construction, woodworking, tinkering and gadgets, and a variety of materials, techniques and projects. Staff members are here to help get them started, whether it's working a needle and thread for the first time, practicing the use of wrenches and screwdrivers, tinkering with batteries and buzzers, or picking out the perfect artist medium. There's something for everyone to try and to make. It's a mega-awesome experience.
Stepping Stones designed the new exhibit to celebrate creativity in children. They will be the future engineers, designers, inventors, artists, teachers, scientists and the ones shaping the world years from now.
Making, at its core, is the act of creating something. The current "Maker Movement" works to inspire students to become creators of learning rather than passive consumers of learning. Making takes a constructivist approach to learning by giving adults, children and students the materials, tools and support along with the freedom to discover and construct their own knowledge. Making provides an opportunity to build 21st-century skills, including flexibility and adaptability, initiative and self-direction, critical thinking and problem solving, and creativity and innovation.
The Mega Making exhibit experience is organized into five main areas: Art, Textiles, Construction/Woodworking, Tinkering and Book Nook/Future Ideas. Next to the Book Nook/Future Ideas is a Raggedy Ann exhibit display in partnership with Norwalk Historical Society. Raggedy Ann was invented in Norwalk, CT and is celebrating her 100th birthday this year.
Since they have opened their "tall" and "small" front doors in 2000, Stepping Stones Museum for Children has followed its mission to "create an environment that inspires lifelong learning and supports parents, caregivers and educators as facilitators of children's exploration."
To fulfill that mission, their exhibits, along with their learning and experience teams, are always focused on how to best prepare children for the future, addressing critical educational needs in society today. An example is the museum's creation of its award-winning, Express Yourself exhibit, which focuses on social-emotional learning and was created with experts in both the education and psychology fields.
About the company:
Stepping Stones Museum for Children is an award-winning, private, non-profit 501 (c) (3) children's museum committed to broadening and enriching the lives of children and families. Stepping Stones Museum for Children is located at 303 West Ave., Norwalk, CT, exit 14 North and 15 South off I-95. Museum hours are: Labor Day through Memorial Day, Tuesday-Sunday and select holiday Mondays from 10 a.m.-5 p.m.; and Memorial Day through Labor Day, Monday-Sunday from 10 a.m.-5 p.m. Admission is $15 for adults and children and $10 for seniors. Children less than one year of age are free. For more information about Stepping Stones, to book a field trip or schedule a class, workshop or facility rental, call 203-899-0606 or visit http://www.steppingstonesmuseum.org.