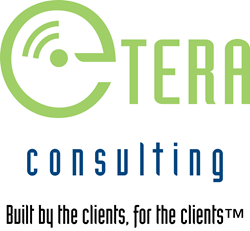 As an All1ance One Partner, Rich's unique background, along with his west coast network, will be very beneficial to eTERA's strategic growth.
WASHINGTON, DC (PRWEB) June 24, 2015
eTERA Consulting, an internationally recognized and award-winning leader in data and technology management, today announced that Cyber Crime Forensics has joined the company's highly successful All1ance One Partner Program. The All1ance One Partner Program provides many ways for business partners to expand their business, win more clients and increase revenue by offering their clients a full range of eDiscovery services throughout the Electronic Discovery Reference Model ("EDRM").
"The strategic partnership we have created with eTERA Consulting allows Cyber Crime Forensics to offer a full range of services with an internationally recognized data and technology management company," said Richard Plummer, CEO of Cyber Crime Forensics. "We look forward to teaming up with eTERA Consulting to allow our clients to significantly reduce the cost of eDiscovery services across the EDRM. This will certainly be a win-win for all involved and we look forward to being part of the eTERA team!"
"We are very excited to have Rich and his team as part of the All1ance One Partner Program," said Mary McGinness, eTERA's All1ance One Manager. "Rich has great knowledge in the forensics space, and brings a passion and drive for client relations that the entire eTERA team can relate to. Rich, who is based in California, has experience in conducting collection and preservation for eDiscovery, incident response, computer forensics and mobile device forensics investigations. As an All1ance One Partner, Rich's unique background, along with his west coast network, will be very beneficial to eTERA's strategic growth."
eTERA Consulting's All1ance One Partner Program offers three partnership categories including Connectors, Associates and Integrators. The All1ance One Partner Program helps eTERA's partners maximize their revenue potential across the EDRM. For more information about becoming an eTERA Consulting All1ance One Partner, please contact Mary McGinness at all1anceone@eteraconsulting.com.
About Cyber Crime Forensics
A small, hard-working computer and network security firm, Cyber Crime Forensics of Fairfield, California, offers electronic discovery, mobile device and computer forensics services. Established in 2012 to provide a low cost solution to those who need forensic support, Cyber Crime Forensics believes everyone should have access to first class forensic services without the high price tag.
About eTERA Consulting
eTERA Consulting, Built by the clients, for the clients™ is an award-winning leader in data and technology management providing innovative solutions to help clients overcome the high costs of managing large volumes of data, electronic discovery and content searching. As an international consultancy, eTERA offers five key services across the Electronic Discovery Reference Model including Early Information Assessment®, Forens1cs One℠, 1ntelligent One™, Rev1ew One™ and Opt1mum One.® These services help clients to proactively identify and analyze data early in the process allowing for significant data reduction, enhanced decision-making abilities, significant savings on eDiscovery costs and defensibility. eTERA Consulting provides clients with the necessary swat-team of experts needed to effectively manage litigation, government investigations and regulatory matters. eTERA Consulting utilizes software tools verified by the Gartner Group and is SSAE-16 certified to ensure the protection of client data. Headquartered in Washington, DC, and with offices in Chicago, Brussels, London and Paris, eTERA Consulting has served the legal industry since 2004. eTERA Consulting was selected by the Legal Times in 2014 as the Best End-to-End Litigation Consulting Firm and in 2013 as the Best Data and Technology Management eDiscovery Provider. eTERA Consulting has also been recognized by the National Law Journal for four consecutive years as the nation's top End-to-End eDiscovery Company.