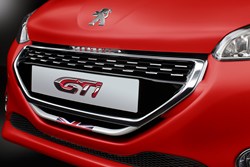 Spectators from the era as well as those new to the car can expect to be equally impressed by the winning model.
(PRWEB UK) 24 June 2015
Peugeot will display five of their sports edition models at the Goodwood Festival of Speed 2015, showcasing their latest rally models as well as classics from more than 50 years ago. The 208 T16 rally car, 2008 DKR, 208 WRX, 309 GTi Goodwood Limited Edition and 404 Endurance car will all be present, providing an extensive history of Peugeot Sport for all driving enthusiasts.
The 205 T16 rally car will be making an appearance to celebrate the 30th anniversary of its WRC win. The rally adaptation of the Peugeot 205 production model, the T16 was hugely successful in the eighties. Spectators from the era as well as those new to the car can expect to be equally impressed by the winning model.
Displaying Peugeot Sport's latest efforts will be the 2008 DKR. Having featured in this year's Dakar Rally, the 2008 Crossover redesign is a shadow of the production car it is based on, with cutting edge design including extra-large wheels for off-roading and a V6 bi-turbo diesel engine.
Last seen at the Geneva Motor Show, the 208 WRX model – in partnership with Total, Red Bull and Hansen – is taking a break between its German and Swedish Rallycross rounds to showcase its impeccable design and performance at Goodwood. Weighing just over a tonne and with a 0-60mph time of approximately 2 seconds, it is one of the most remarkable cars ever produced by Peugeot Sport.
The 309 GTi Goodwood Limited Edition will bring back a 90's classic, for the lovers of retro Peugeot models. A UK limited edition, only 398 vehicles were ever constructed. The classic pinewood green metallic paintjob, Speedline alloy wheels and optional wooden steering wheel distinctively set the model apart from the original.
Finishing the line-up is the Peugeot 404 Diesel record car. Produced in 1965, the 50 year old model incorporated ground breaking design to produce a truly unique car. Visitors of this year's festival will get to see the fastest diesel of its time, accompanied by a representative from France's Peugeot Museum to provide a wealth of background knowledge.
To find out more about Peugeot's stand at the Goodwood Festival of Speed 2015, visit: http://www.peugeot.co.uk/goodwood-festival-of-speed/
Explore Peugeot's full range of production, sport and concept cars at: http://www.peugeot.co.uk
ENDS
Notes to editors:
Press contact
To request additional information, please contact public relations manager Kevin Jones on:
E: kevin(dot)jones(at)peugeot(dot)com
T: +44 (0)2476 884215
About Peugeot
As well as a solidified position in the production car market, Peugeot have a vast history in designing and manufacturing sports editions of their most popular hatches, as well as the recent 2008 DKR, inspired by the 2008 Crossover SUV. The French manufacturer's latest range of sports models are taking part in rally championships throughout the globe.
About Goodwood Festival of Speed
One of the automotive industry's most prestigious events, the Goodwood Festival of Speed commonly attracts upwards of 100,000 visitors, four times that of the attendance at its debut in 1993. Car manufacturers gather to display their latest models, concept cars and technologies, as well as classic models from the past. The Goodwood Festival of Speed and Moving Motor Show 2015 will take place 25th-28th June.